Interface Design Sketching | Lesson #95
Get Your Ideas Rolling: Building Momentum Through Iteration
Kick the "big reveal" to the curb and embrace the fails that bring you a better win!
What exactly is an iteration?
As I've come to know by talking with Notable users, iterations have different meanings for any given team. It can be as big as vast as entire phases of the design process or as granular as developing something as minute as the style guide for a single "cancel" button. Every project has its scope though, and taking a closer look at what you're trying to accomplish with each project comes in handy when kicking things off with internal projects and client facing ones alike.
If you clicked on the link, that's what a "Page" looks like in Notable. It's what we use to track our progress while designing for our clients as well as laying out the expectations for the project and clearly define the scope. When going through our client projects, we iterate quickly and often.
How many rounds is enough?
Over the course of a 6 week period, Jenn and Alina went through 13 iterations on a set of hi-fi wireframes with over 130 mock-ups with client calls and in-person meetups in between. The biggest push was definitely the first iteration where the initial concepts were laid out as building blocks for the future iterations of their design to build momentum. Each one of those rounds stored the overall iteration as well as an outline of what they built upon based on the last feedback session.
The basic process for each iteration was:
Receive feedback
Outline the goals for the next iteration
Act on the goals generated by the feedback
Ship it.
Rinse and repeat.
13 was the magic number of iterations in this case, but there's never a defined number of rounds. When a consensus has been reached, it's time to move on to the next deliverable. This, of course, involves getting that first iteration out again. The first push is the hardest, but it's not our first rodeo anymore, right?
Keeping it short and sweet!
For those first couple of iterations to work, you can't commit to a specific idea early on; ship it rough and start at a high level! Once that initial work is there, we build upon it, commit to a direction and then refine it. Tracking the failures as well as the wins is how we truly know that we've found the best choice; we're never perfectly on point 100% of the time (as nice as that would be). This again relates back to those 13 rounds of wins and fails that Alina and Jenn experienced while delivering on their wireframes.
Well, looks like it's time to act; let's push that metaphorical first iteration boulder off the top of the hill, build some momentum, fail fast and get those wins!
Some key takeaways:
Ship it quick! Push the initial work out as fast as possible, it doesn't need to be perfect.
Record your progress as you iterate. This can be a pain, but it's worth it further down the line when you're 10+ iterations deep.
Rinse and repeat. As the craziness of the problem simplifies, the following iterations do as well.
---
About the instructor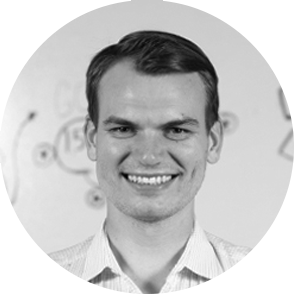 Nic oversees all aspects of Notable and helps make it awesome for ZURBians and Designers alike. He worked as a chef and cooked up a storm in the kitchen before becoming our Customer Advocate for Notable.
---
Product Design Lessons, Direct to Your Inbox
We're just getting started, so sign up and we'll keep you in the know with our product design lessons. No spam here.