Intro to Foundation | Lesson #45
Jump on Ideas With Patterns
Learn to use design patterns to your advantage for faster design development
1. Identify your problem
Product design is the process of solving problems, so we know we've found the best pattern when it solves a design dilemma. Don't just copy something because you like the way it looks. Start by understanding how the product benefits the both the end user and the business.
2. Look up patterns
Many designers look to their own experience for design patterns, but other resources exist to inspire your work
PatternTap.com — We manage an organized collection of applied patterns in the wild for designers to browse.
Triggers — Some patterns aren't visual. Behavioral patterns like variable rewards, scarcity, certainty and curiosity, are patterns you can use to plan workflows throughout entire websites.
Your own experience — See a site you like? Bookmark it. There's nothing wrong with drawing ideas from work you see every day, as long as you don't try to copy them outright.
3. Apply patterns to your work
Imitation may be flattery, but mimicking someone else's look likely won't help your users or clients. Design without purpose is decoration.
The solution? When you see something you want to apply — say, an awesome footer — try to find at least three other similar footers. Gleaning ideas from all four will help you see the underlying ideas on which they're based, and keep your product from looking like an unoriginal imitation. Anyone can copy the look of their favorite website. The mark of a good product is when people try to copy you.
4. Make the patterns your own
Don't be afraid to experiment… on paper. Rough sketches are great ways to test out patterns before you spend time in code or Photoshop. Sketches are almost as easy to create as they are to discard — and when you're experimenting with patterns, you can expect to have some false starts.
By definition patterns are proven design solutions. But that doesn't mean one idea fits all. Patterns are guidelines, not rules. Starting points, not final solutions. Using patterns as a foundation for your work can help you beat deadlines with proven design solutions.
---
About the instructor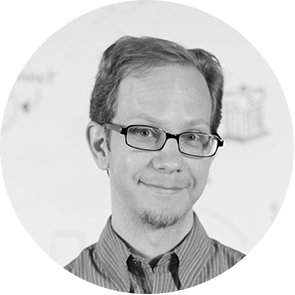 Ben Gremillion is a Design Writer at ZURB. He started his career in newspaper and magazine design, saw a digital future, and learned HTML in short order. He facilitates the ZURB training courses.
---
Product Design Lessons, Direct to Your Inbox
We're just getting started, so sign up and we'll keep you in the know with our product design lessons. No spam here.