Remember when our class of 5th graders stopped by the office last week? We can't stop thinking about how much they grokked design thinking, showing us how it's never too early to learn those concepts. It's also never too late to learn those concepts. That's why every year we hold a 24-hour marathon to help out one lucky nonprofit over a design hump.
We're happy to announce that we've opened submissions for our sixth ZURBwired, which will take place Aug. 8, 2013. We'll help one nonprofit solve a design problem from start to finish in 24-hours. We'll work side-by-side with the members of the nonprofit and go through every step in the design process from ideation to prototyping to implementation.
From our work with dozens of nonprofits over the years, we've seen the kind of operational paralysis that can stymie an organization. Many are programmed to get every last detail right before taking action. They focus on closing down problems, not opening them up. This can lead to operational fatigue where nothing gets done. During ZURBwired, we coach a nonprofit through the design process to get them unstuck and moving forward again. Afterward, they not only achieve their design goals — they learn how to do it for themselves.
Design Thinking the Gift that Keeps on Giving
Last year, we worked with the Elves at Family Giving Tree, who ensure the holiday wishes of children in low-income neighborhoods. They also provide backpacks filled with school supplies to kids across the Bay Area. 2012 was a special year for Elves, who celebrated helping a million children. In 24 hours, we crafted a marketing message for that milestone, created posters and we redesigned their entire website, which helped them celebrate their achievement in a big way.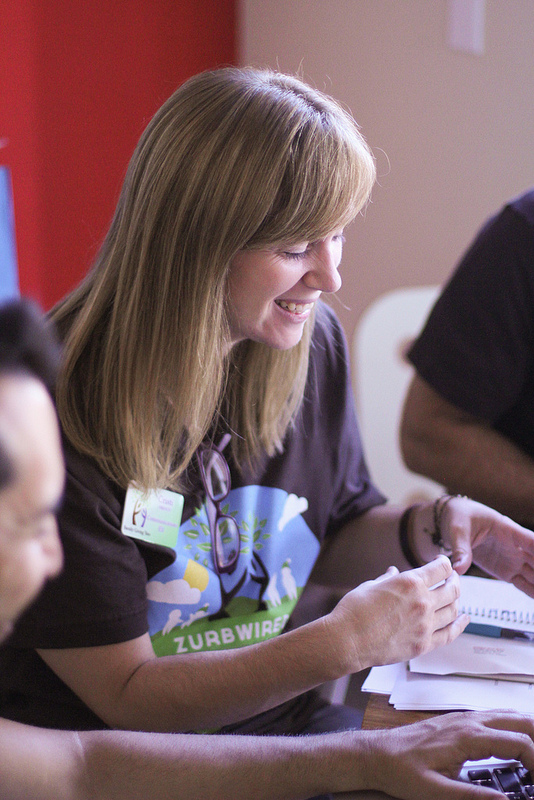 Cristi working alongside ZURBians during
ZURBwired
But they were also able to take what they learned from working with us and apply it long after the event. As Communications Elf Cristi French puts it:
We learned a lot about what the look and feel of our campaigns say about our organization. Having the ability to really focus on "impact" instead of "instructions" by implementation design changes, helped us connect to our supporters in a more meaningful way. We continue to use elements from our time at ZURB today, and have received an overwhelming positive response to the new look!
She also has some advice for this year's luck nonprofit, whoever that may be:
Get ready for a truly unique experience! Be prepared to look at your organization from a new perspective, and be open to exploring new methods of getting your message out there. Bring a diverse team that can maintain the integrity of your mission while working with "outsiders" that will challenge your status quo. Transformation is fun ' even at 3 o'clock in the morning!
We had a great deal of fun working with the Elves and can't wait to work with the next nonprofit for this year's ZURBwired!
Other Nonprofits Who Got Wired
Need to Get Over a Design Hump?
If you're a nonprofit that needs help getting over a hump, here's what your proposal needs to include:
Inspire us with your organization's mission.
Name three teamwork tactics that will make your organization a perfect fit for ZURBwired!
Describe a clear goal that your entire organization wants to accomplish.
Say which team members will be committed to participating all day and night?
Name one or two people from the team that's capable of making executive decisions on the organization's behalf — there's no time to consult with the board at two in the morning!
The deadline for submissions is July 8, 2013. Over the next few weeks, we'll be reviewing submissions and picking one nonprofit to work with. So what are you waiting for?