Interface Design Sketching | Lesson #32
Avoid Highlighter Abuse in Sketches
Watch out — highlighters can be dangerous. Learn how to not go crazy in lo-fi sketches.
Bad practice: Paint with highlighters because the final design will use those colors. Highlighters come in many colors, and so will your product. It's possible to use multicolored highlighters to indicate how colors will be used long before we've decided anything else about the project.
Best practice: Highlight the most important item on the page. Indicate the element upon which you want users to act, usually a call to action. Ask yourself: "What is the primary call to action? What is main task or goal I want the user to move forward with?"
Early sketches are about opening up problems, exploring ideas and deciding which ideas to pursue — and which to discard. This is not the time to experiment with a color palette.
Choose what you highlight carefully
Bad practice: Highlight any element you please. Dilute highlighted items' impact by using it for everything clickable. Bullets on list items? Backgrounds? Copyrights? Why not? 
Best practice: Highlight one item. Two at the most. Highlights are functional tools during presentations. The more you use them, the less impact these splashes of color have. Sometimes, when we have several sketches that lead to each other, we use highlighters on buttons that forecast the next sketch. But always use highlighters sparingly, if at all, with lo-fi sketches to keep users focused on the big picture. This is the time for general ideas, not details.
Don't use color to indicate function
Bad practice: Color-code elements according to type. Blue for forms, red for headers, yellow for headings, green for photos — highlight everything to tell them apart.
Best practice: Don't use highlighters to define details. Lo-fi sketching is a process of communicating basic ideas and interaction. Using many colors introduces too many details. And because not everyone will understand that colors represent organization instead of aesthetics. Avoid colors and keep attention on the overall ideas. Lo-fi sketches are about exploring the big picture with which you will decide colors and details later.
Do use color sparingly
Above: A lo-fi sketch usually needs only one spot of color to (ahem) highlight the most important part of a design.
Hokey sketches and ancient folklore are no match for a good highlighter at your side. But like any tool, they can be used for good or evil. Use them sparingly to give your lo-fi sketches just the right impact.
---
About the instructor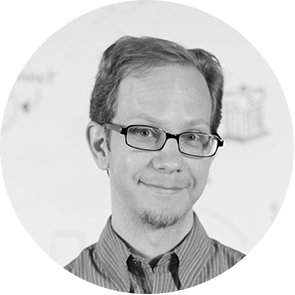 Ben Gremillion is a Design Writer at ZURB. He started his career in newspaper and magazine design, saw a digital future, and learned HTML in short order. He facilitates the ZURB training courses.
---
Product Design Lessons, Direct to Your Inbox
We're just getting started, so sign up and we'll keep you in the know with our product design lessons. No spam here.