It's time once again for ZURBwired. It's our annual event where we help one lucky nonprofit to accomplish one mission for their organization in one crazy, coffee-fueled 24 hour design marathon. Today, we're opening the floodgates for nonprofits to submit their proposals for this year's event!

ZURBians hard at work at last year's
ZURBwired
.
In previous ZURBwired events, we've overhauled websites and developed publicity for fundraisers. Hard to believe that this will be our fifth ZURBwired! Over the years, we've helped our nonprofit participants raise more than $100,000, which is something we're very proud to say.
Once again, we plan to stick it out for 24 hours, working alongside the winning nonprofit and participating partners, as we completely rethink the project from the ground up. There's no slacking here. Everyone gets their hands dirty, including the participating nonprofit, and has fun doing it!
In the end, the nonprofit gets to meet their marketing goals and learns how to do this again for themselves in the future. And, in fact, Rebekah Children's Services, our winning nonprofit from last year, has taken what we did for them and made it the center of their own rebranding.
Checking In With Last Year's ZURBwired Nonprofit
Rebekah's came to us because people were confused about what they did and why. One reason for why people were confused had to do with their old website, which they had described in their proposal as a 'visual train wreck.' The site didn't adequately communicate Rebekah's mission or the services that they provide. In 24 hours, we were able to create a brand-new logo for Rebekah's as well as create a brand-new website that looked good across all devices, thanks to Foundation.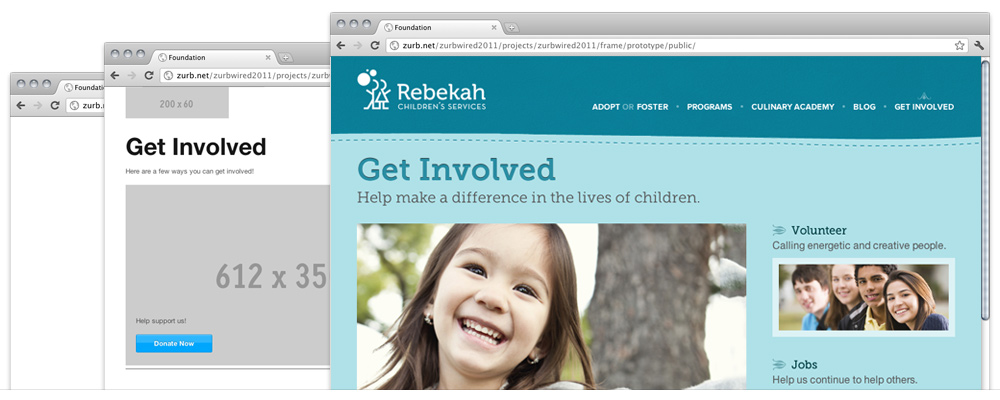 We were also able to print brand new marketing materials for them and give them a template for their newsletter. To this day, Rebekah is still using the aesthetic that we created for them, especially the logo.

We LOVE our new logo, I'm slapping it on everything, and the multiple colors have expanded the color palate that we can use which I find exciting. I'm using the stitching and dual tone blue waves as the tie in to give Rebekah Children's Services a consistent look and feel in print media.
Melissa Driscoll, development and community relations manager
The logo we created on a recent booth display.
Rebekah's even created new brochures based on the designs that came out of that night, giving the organization a consistent look and feel. Or as Melissa puts it:
I can't say enough about how happy we are with the designs that came out of those 24 hours, it has refreshed our look and brought an element of fun into our brand that we were seriously lacking.
Our redesign of Rebekah's website has also given them a great framework to build on, and they're currently working on content updates and some design expansions for the events and culinary pages.
So Are You In?
If you're a nonprofit that's stuck and needs help getting over a hump, here's what your proposal needs to include:
Inspire us with your organization's mission.
Name three teamwork tactics that will make your organization a perfect fit for ZURBwired!
Describe a clear goal that your entire organization wants to accomplish.
Say which team members will be committed to participating all day and night?
Name one or two people from the team that's capable of making executive decisions on the organization's behalf (there's no time to consult with the board at 2AM!).
The deadline for submissions is June 29th. Over the next couple of months, we'll be reviewing submissions and picking one nonprofit to work with. So what are you waiting for '
Submit Your Nonprofit's Proposal