In 2006, we were crazy enough to do our first ZURBwired event, where we blaze through a huge marketing effort in a 24-hour time crunch. But we weren't just pulling a stunt. We saw an educational opportunity where nonprofits could learn design thinking and get unstuck.
We'd found working with nonprofits over the years that they need every last detail worked out before they take action. This mentality can stall organizations, causing them to waste efforts instead of taking action. It can lead to burnout. And nothing gets done ... at all.
In 24 hours, we teach nonprofits the value of design thinking, which allows them to get things done faster and on time without trapping themselves in minutiae. Which is what we did this past year with Family Giving Tree as we turned around their website and created a marketing campaign to celebrate the one millionth child they've helped.
But we're also planting the seed for others to take what we've done and hold similar events, help nonprofits in their area. We wanted to inspire others to create teaching cultures with a heavy emphasis on design instruction. And it's happening!
Reno Takes the Plunge
The Biggest Little City in the World — Reno that is — will have a Wired event of their own, inspired by our efforts. Last year, Kevin Jones, of Cloudsnap, asked for advice on how he could start his own Wired event. Now he's finally got all his ducks in a row. With the help of other local designers, developers and writers, Reno Wiredis off to a running start! They're currently on the hunt for a lucky nonprofit for their April 5, 2013, event.
Kevin was kind enough to answer a few of our questions about what propelled him (read: made him crazy) to do this.
1. Wired is one of the craziest, but worthwhile events that we do. Some still think we're crazy for doing it each year. What spurred you to take on a 24-hour event like ZURBwired? Do your friends and family think your crazy for doing this?
I've been involved with various nonprofit projects for the last five years, taking on about one project pro-bono each year. Often times the projects would get bogged down because of the long time frame, board of directors, and idle hands. It was no one's fault, it'd just happen. A lot can change in a year, especially for nonprofits. As soon as I saw ZURBwired, I thought to myself, "That's the way to do it. That's the way to make it work."
I'm always working on something, and I'm definitely a night owl. Coming from an agency, I'm not foreign to the all nighters and late night work sessions; it's almost second nature to get home from work and start working on something else. Once I started telling people I was organizing a Wired here in Reno, most of them said: "I'm surprised you haven't done something like this sooner."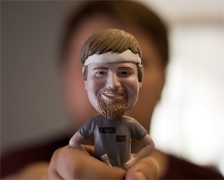 Kevin holding a bobble head of himself.
2. Wired is quite an undertaking, lots of hard work and organization. We see that you're partnering up with several folks, some of the brightest and best Reno has to offer. Who are these people that are crazy enough to do it with you?
Oh man, this was definitely the hardest part of the event so far — putting together the team. With an event like Wired, you need to be sure that your team can work well together, and ship, during that 24 hour timeframe. You need to trust one another, and be able to work fluidly with people you don't work with on a daily basis. The first person I brought the event to was my girlfriend, Julia Kruper, who's a writer and researcher for an ad agency here in town. She loves nonprofits and wanted to be involved, but we knew just us two couldn't handle it alone, so we began brainstorming about who our third founder could be.
We reached out to one of my best friends, and someone I've partnered up with on nonprofit work before, Jenna Hubert. She's a designer at the same agency as Julia. Between the three of us, we determined roughly how many people and what their skill sets would need to be. From there, we just started filling in the blanks. If we couldn't think of someone for a specific spot, we'd put the word out to the rest of the team for recommendations. We spoke to everyone individually, explained the idea, and every single one of them said yes.
The other day I sat back and looked at our team, and I was speechless. Our team members are the leaders in their fields, truly the best of the best in Reno, and all of them are really excited to help. It's awesome.
3. What's the response so far? How do folks in the Reno area apply?
The response has been amazing. Reno is such a great city. We've already had at least 10 members of the community volunteer to help the day of. We nearly filled our entire donation/shopping list within the first week, and we've already had seven nonprofits apply, with at least five more in the works and new ones coming in each day. People can apply by clicking the "apply" link at the top of https://renowired.com.
4. 24-hours can go by in a blur. Many of us have fun doing it, but it goes quickly. What are you looking forward the most about the event?
I'm looking forward to that moment the following day, April 6th, when I get to sit down and watch everyone pack up and leave to their respective houses and beds. That moment when I can sit back, just for a second, and look around the room, reflecting on what this great team of individuals accomplished in 24 hours. For no other reason than to help. And then to have that moment shattered by someone telling me it's time to clean up.
---
We want to thank Kevin for chatting with us and wish them luck on April 5th! As for our ZURBwired event, we'll announce the date and start accepting applications in the coming months. Stay tuned!