Designers, it's time to elevate our game or get off the pot. Yes, I'm telling designers to step up. Because I'm not seeing it happen. What I see now are scared designers afraid to make decisions on behalf of their organizations. Creators and craftsmen struggling to tell other people what works best, and it's putting their own future along with their organization's in jeopardy.
Everyone wants the benefits that come along with authority and influence, but most don't want what inevitably follows: the responsibility of decision making. Making decisions all day requires tremendous amounts of mental energy. Sometimes it's not fun and it can be scary. These feelings, combined with impostor syndrome, put doubt into the heads of designers about whether they have authority to even make a decision. The ease of passing a decision on to someone else has kept many designers in perpetual limbo. They're kinda getting things done, but kinda not, kinda being useful but kinda not. And while for the time being most people aren't noticing, they soon will.
Friends, we can't stay here. We need to design or get off the pot. Making good design decisions is a fundamental building block required to influence our teams and guide them through creative decisions that can benefit our organizations. Machine learning and AI are already making inroads in our industry and will replace a lot of the design we're doing today. What will help us achieve the impact that we desire and keep us valuable to organizations is making good decisions, making them quickly and executing them. It's key to both our survival and growth. And it's not just limited to the design leaders among us. Leading by design can be learned and doesn't require a title or management position.
Making design decisions by doing
In my recent post I discussed the problems of thinking too much in our design work. Taking action is far more important to getting good initial results. Do, then think. Which brings us to the topic today- if we're not spending time thinking, then how do we get started doing? Designers need to get good at reading situations and making decisions. Waiting for our teams to inspire action isn't going to work anymore. It's our job to help our organizations see the possibilities of design through clear, decisive actions.
Design covers all facets of business: strategic, tactical and operational. Designers that are most effective must know how to make decisions in each realm. And whether designers want to lead or not, faster decision making makes everyone on the team better. It's crucial to solving the complexities of connected products and services. You don't need to be a manager to make decisions.
...But making decisions is for managers
New designers get anxiety when I tell them they will make a great design leader. You can see the fear in their eyes, "Do I want to manage people?" And then they start processing, "Do I want to tell people what to do? Can I do this?" I tell them to slow down and not to get ahead of themselves- my compliments usually stem from a great design decision I see them make. They don't realize it, but making a solid decision is the first step in leadership. It builds confidence and inspires action. Managing people may happen, but you'd be surprised how far a designer can grow in an organization simply by making good design decisions.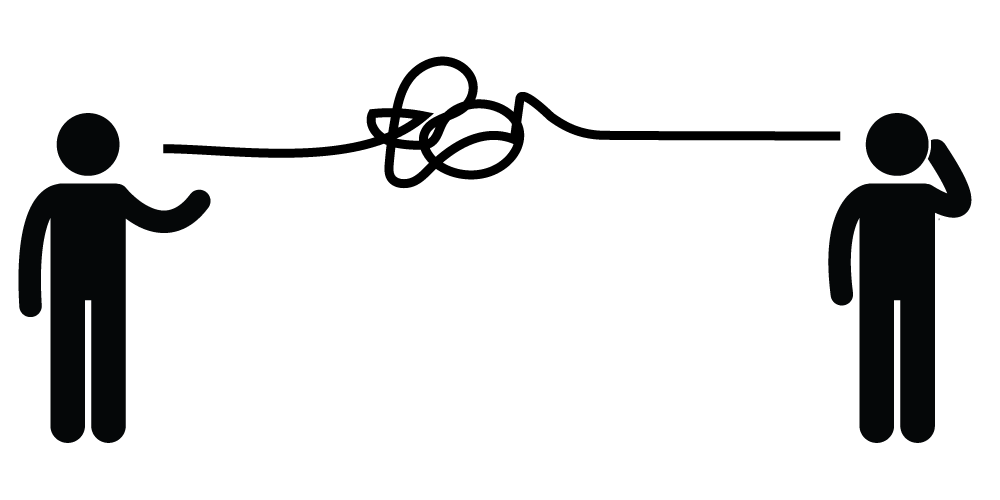 Design Deciding like a Boss
Making creative decisions can be hard, and very different from your typical business decision. We use patterns in design because rigid formulas quickly expire when we're challenged with complex and chaotic problems. There's just too much change happening in technology. So how do we do this? We use different methods of thinking to accomplish phases of our work. Here are a few:
The variability in our methods can create problems and more complexity. Anyone that's worked in a design process understands that it can be a frustrating experience when the team isn't working well together or decisions have stalled. Designers can avoid these problems if they are aware of the issues. So why is making design decisions harder than other business decisions?
All of these reasons can put a halt to design progress. Designers need a quick first step to inspire action. An effective first step can be the difference between a successful outcome and disappointing result. The faster we can reconcile our thinking and actions, the more effective we will be in our design collaborations.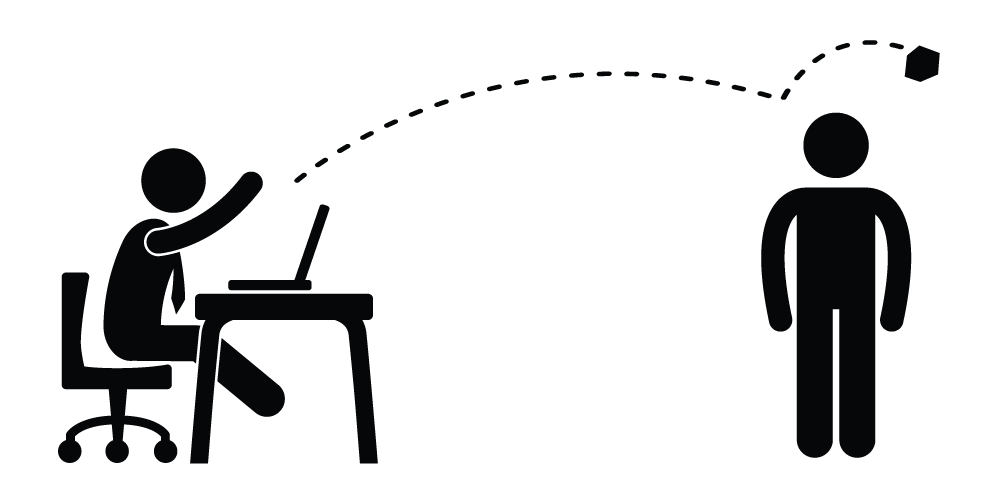 Start with a dribble, pass or shot
When you see an amazing athlete perform, it's incredible to watch them make quick decisions. I'm a Warriors basketball fan (It doesn't hurt that the Warriors also use Foundation!). I've become enamored by the energizing and spectacular play of Steph Curry. His play seems effortless as he helps his team win. Check out some of Steph's magical moments:
So what can we learn from these super athletes? These amazing plays don't happen randomly- they happen through the practice of a ton of small actions. Steph is a quiet force that leads through his actions and inspiring play. He's not directing the play- that's the coach's role. He's encouraging his teammates to make better decisions through his own play. He makes his team stronger with quick, improvised decisions that start with either a dribble, pass, or shot.
Steph's game performance starts by practicing his decision making. It looks like he's doing and thinking at the same time, when in fact, he's made the time between thoughts and actions so small, you can no longer see the difference. His performance feels like it's on autopilot. His decisions are quick and effective.
Designers can get better at making decisions faster too. While it's not quite shooting or dribbling, at it's core, we're also making decisions by doing and thinking to help our team and organization win. Practicing to produce successful results builds confidence and makes it easier to self-evaluate our performances.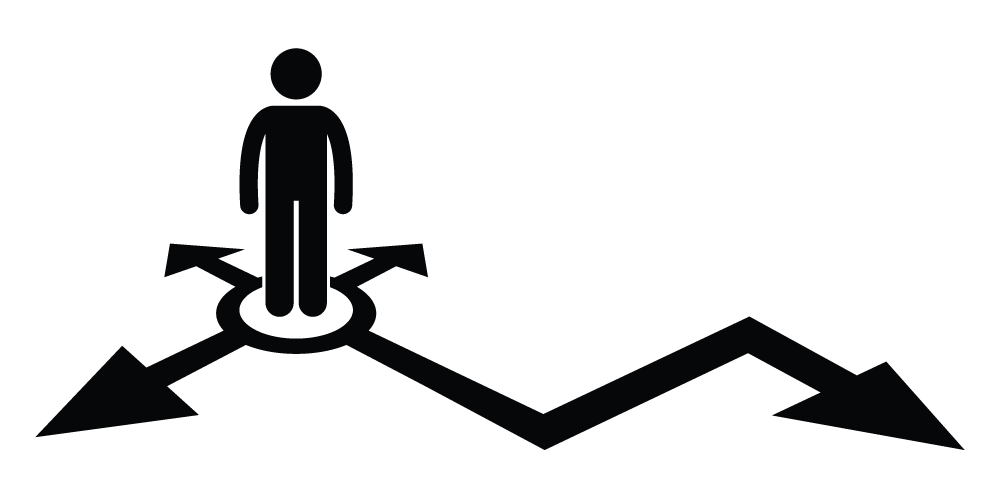 Making a Quick Design Decision
Over a decade ago we developed a system at ZURB called Progressive Design to help us make better design decisions. Making good design decisions is something that can be learned, but it requires practice, repetition and a conscious effort. A quick first step can be the difference between a stalled project and a momentum building action. We practice decisions in three facets of design- strategic, tactical and operational.
Similar to a dribble, pass or shot, designers have a way to assess a situation and start making quick design decisions. By identifying the mental space, Lift, Leap or Land, we can choose the right design methods for effectively moving a project forward. In each space we must ask a couple questions that help us take action.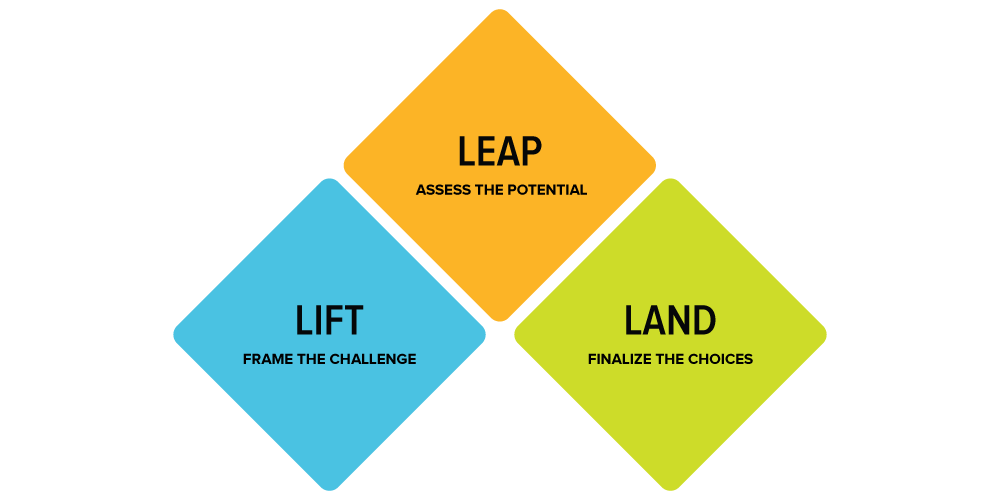 Frame the challenge with LIFT
Strategic, or important, projects require a strong lift to frame the design challenge. In this mental space, we're not using design to solve a problem- instead, we're creating a space for problems to emerge so that we can inspire incredible design thinking in our team. Design decisions are based on good questions to get our team seeing a problem from many different perspectives. We do this through needfinding, observation and problem definition.
It's important to note that not all design challenges require creating lift because a problem may already be well defined. However, in each design project it's still important to ask the right type of questions.
How come? We can find potential needs that may not be met by a current solution. We can ask, how come this is the case? By observing and reviewing users, trends and available insights, we can create a challenge that helps us learn.
What if? By suggesting different ways to look at a problem, we avoid narrowing the problem too quickly or solving the wrong problem. A current solution shouldn't limit our thinking, instead, it should inspire us to ask, "what if we considered a new possibility?"
Assess the potential with LEAP
Creating an emerging product or service requires making big leaps. Technological advances and psychological factors, however, create uncertainty and increase the complexity of our design challenges. We can use design to assess the potential of an idea or concept to insure we're solving the right problem. Complicated and complex problems require finding patterns and removing unknowns.
Designers can help their organizations overcome the doubt that emerges from this rapid change through iteration. This can feel very much like trial and error, and we do this through ideation and prototyping.
How about? Suggesting ideas can be an anxiety filled activity, but the right methods will inspire a team to think big. We use sketching as an efficient way to explore ideas and visualize workflows that work within specific opportunities.
Why not? We can evaluate interface ideas in prototypes and validate if our design assumptions and interaction design were good. Prototypes help us understand why our initial thoughts may or may not have been good ideas so that we can adjust in new directions.
Finalize the Choices with Land
Many great design decisions happen when we focus on execution. Teams build confidence through realizing an idea and finalizing choices. Production is an important part of design and it's best served landing on agreed upon ideas. We do this by establishing best practices through testing and forming patterns in our frameworks and style guides.
Design is very good at solving production oriented problems. In fact, it's the space design has played a larger role in over the past hundred years.
Which one? With the design structure agreed upon, we work with teams to create flexible, scalable designs that can inspire completion.
Why's that? No decision is perfect. We breakdown the problem by looking at qualitative and quantitative data to arrive at some insights we can build opportunities from.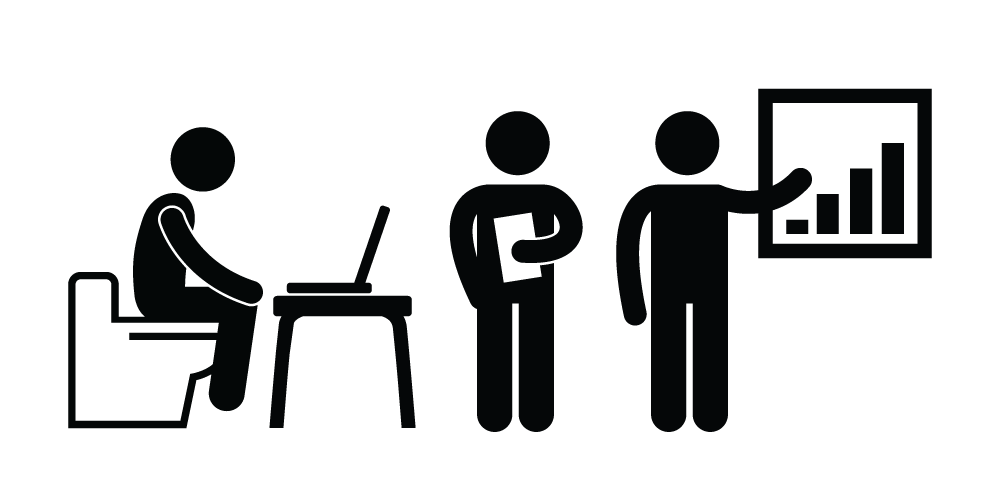 Designing with a System
Designers need to influence business decisions through quick design decision making. Creative environments are not always conducive to building confidence, so quick design decisions can inspire action and get everyone moving forward. Having the right system in place, just like a style guide, can encourage designers to step up and own these decisions. Knowing what design decision to make starts with understanding the right mental space to ask questions.
At ZURB we use Progressive Design to simplify our design decision matrix. A consistent, reliable approach helps us build momentum in projects by setting us up to use the right design methods. Choosing between Lift, Leap or Land questions is the determining factor in the success of our projects. We're excited about the progress we've made in our approach and would love to hear how you make decisions. Designers, it's time to own our decisions!
---
Bryan Zmijewski
Leading the charge at ZURB since 1998
Our fearless leader has been driving progressive design at ZURB since 1998. That makes him quite the instigator around the offices, consistently challenging both the team and our customers to strive to always do better and better.
Learn more
Follow him at @bryanzmijewski