With the clock ticking last Thursday on our seventh ZURB Wired, the day began with intense brainstorms. It ended with a visual direction, print materials and a tone for a website. During the night, we toiled in code, creating a brand-spanking new site for nonprofit Sacred Heart in 24 hours. Today, we're officially launching that site redesign — the culmination of our work to mobilize the nonprofit for its upcoming holiday campaign.
We worked alongside Sacred Heart in a coffee-fueled 24 hour frenzy — and snapped 500 photos of our time together — to create an entire marketing push for their campaign that provides food for individuals and gifts for children during the holidays.
We guided Sacred Heart through the same design process and methods we use in our Studios work. Our goal with Wired: to help nonprofits, such as Sacred Heart, learn how to do more with less and mobilize in shorter bursts. When you work in smaller teams and in short bursts, you can accomplish amazing things. Which is exactly what happened during Wired.
We had smaller teams — web, print, engineering and content — all working in concert through the day and throughout the night. At the end of it all, we were able to accomplish a staggering amount of work.
Here's a complete look at we created in that 24 hour time crunch.
Posters, Brochures and Cards ... Oh My!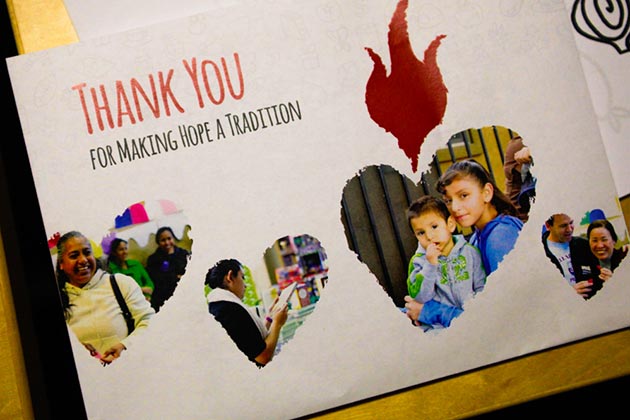 Our focus in the first half of the day was print. We had a tight deadline and our print team hustled to get the brochures, posters and thank you cards designed. Along the way, we got feedback from Sacred Heart, quickly iterating on our designs.
Here's what the design team produced:
A 8.5 X 11 poster
A 12 X 18 poster
A trifold brochure
A 'thank you' card
Postcards
But once the print deadline was met, the team didn't stop. Over the course of the night, they also designed a few other items, which we handed over as digital files. Here's the additional material we created:
A poster for their donation barrels
A drive kit for corporations
A promotional building banner
A sponsorship brochure
A Brand-Spanking New Website
The web team drew from the visual inspiration of the print team. While the print team was focused on their deadline, the web team created sketches and wireframes, before they moved into code. During the night, they coded furiously to get the site shipshape. Their work included:
A comprehensive content overhaul
A new custom WordPress theme
Custom fields for page headlines specific to their design
A calendar/events manager
A New Promotional Video
As if we didn't have enough to do, we also did put together a new promotional video for Sacred Heart. The two-minute video promotes the upcoming holiday drive — calling on folks to volunteer or donate food. All of this centered around the story of Erica, who works for Sacred Heart and whose own family was once helped by the organization.
Lasting Change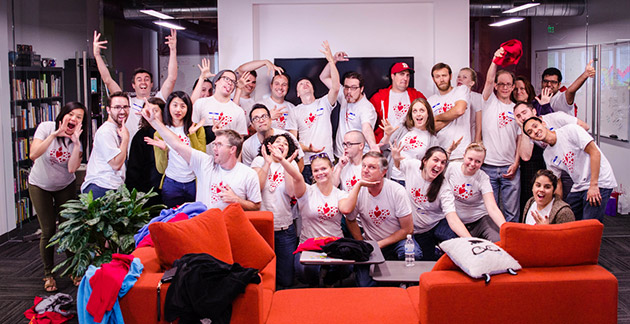 The changes aren't just for this holiday campaign. Sacred Heart hopes to use what they learned for many years to come. As Jay Pecot, Director of Development and Communications says:
Even with an improved economy, more people than ever before are seeking Sacred Heart's help. That is why Wired was such a tremendous experience for us. This year, because of ZURB's help, we are ready for our holiday fundraising campaign celebrating our 50th birthday with a comprehensive set of paper and electronic communications.

During Wired, we watched carefully how ZURB's staff took us through the design process. We are going to do the same for our next big campaign. And most importantly, we will set aside time to build the campaign together, rather than fitting it in-between other tasks.

Thank you, ZURB.
Thank you, Sacred Heart, from all of us at ZURB. We can't wait to see what Sacred Heart creates in the future.