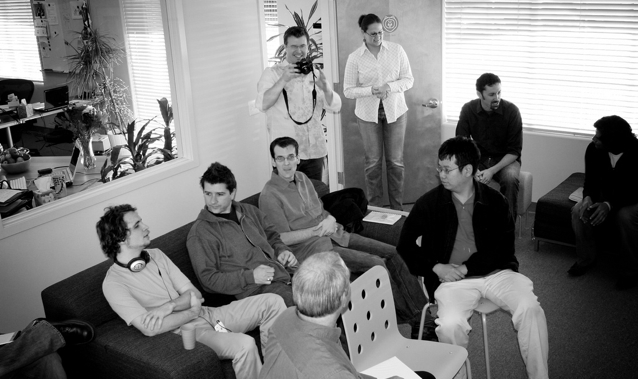 A handful of people at our first ZURBsoapbox for Mrinal Desai, of Crossloop.
More than four years ago, we held our first ZURBsoapbox with Mrinal Desai, of CrossLoop, who gave an amazing talk on how online friends are either cats or dogs. Only a handful of people showed up and barely filled our Lion's Den. Now our soapbox events have grown from a handful of people to hundreds of people filling our office, like they did when Ron Conway, the godfather of angel investing, chatted with us last year. And after each of our soapbox talks, we often would get asked, "when are you going to have transcripts available?" Well, wait no longer.
We've been working over the last couple of months to put together the transcripts and have put 26 transcripts, out of 27 soapbox talks, up for you to look at. And we're hard at work on 27, which is last Friday's soapbox with Box Founder and CEO Aaron Levie, up ASAP along with the podcast and summary of the event.
Read the transcripts by clicking each speaker's picture and check out some of the valuable takeaways we've had the good fortune to hear over the years. Like Ron Conway's advice on when to seek angel funding or what he looks for in a pitch. Or Overstock CEO Patrick Byrne's advice on how thinking six-months at a time can help focus your efforts. Or how you can avoid the 50-70% failure bucket from investor Dave McClure.
We'd like to thank from the bottom of our hearts all the speakers who've spent over the years sometime with us to chat and all those folks who have dropped by to hear them speak. We look forward to many more soapboxes to come.
Click on Each Speaker's Picture to Read the Transcripts