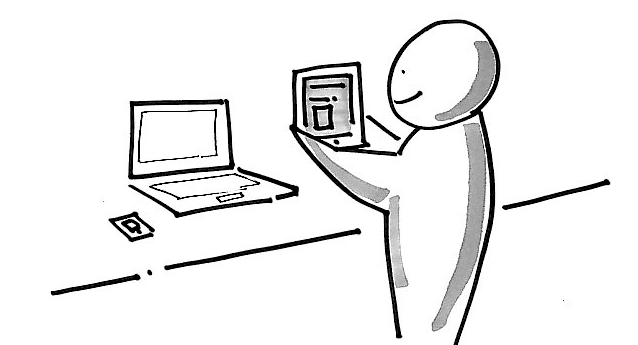 Last week, we were excited here at ZURB to distribute new iPads to every member of the ZURB team: design, operations, marketing and engineering — even our interns. There's plenty of companies in Silicon Valley that kit their employees out with nice gear, but this wasn't just about everyone having shiny toys (though it doesn't hurt).
Multi-Device is the Future
You've probably noticed that it's not just laptops and desktops people are using these days. Other classes of device, like smartphones or tablets or eReaders (etc, etc) are beginning to dominate how people access the Web, or talk to each other, or capture and share things in their life.
We believe that, given this inevitable shift toward more disparate devices, it's important to put more of our eggs in that basket. That's why we developed Foundation, our responsive framework for developing sites and apps for any device. That's why when we relaunched ZURB.com we did so in a way that worked across devices, and it's why we develop sites and apps for our clients responsively.
We Need Multi-Device Design Literacy
There's plenty of reasons to have iPads in an office. We use them for QA, we can use them to present work to clients (or each other) ... but the biggest reason we kitted out each and every ZURBian with an iPad was to foster an environment of multi-device design literacy.
It's not just our designers who need to understand how Design works in a multi-device world. Our marketing team needs to be immersed in these devices so they can talk about it. Our engineering team needs to know about them so they can build new apps and services to cater to it. Our operations team needs to understand the multi-device world so they can plan for it, and work with it, and find new talent to drive it. We all have iPads because each and every member of our team needs to intuitively understand the multi-device world (we all have smartphones, too) and understand what it means for our business and our industry.
The Practical Effect
Here's an example of how this is already helping our team. The new iPads, with their retina displays, make for a great reading and browsing experience. We also recently relaunched ZURB.com with a visually rich design. However: we did almost nothing to cater to retina displays (it didn't even exist when we started the redesign). No high-resolution imagery, no consideration for the improved readability when it came to font sizes and the like.
We could simply serve up giant images and scale them down for everyone else, but something else the iPad teaches you is that while the resolution might be enormous, often the bandwidth is not. Even on 4G LTE Retina-sized background images are a seriously large file load. We're still working on this problem, but without team-wide exposure to this we might not have even bothered and we have to bother. These devices aren't going away, and they're not going to get less capable.
That's a technical example, but the effect is spreading already. When we evaluate new services to drive operations, we consider whether they work on different devices. We're already planning for TVs with connected AppleTVs in our breakout rooms, because our iPads can present directly on them without messing with cables. And so on.
Consider how immersed you are in a multi-device world. Smartphones, tablets, notebooks, eReaders, glasses (hehe), TVs, cars ... to work on what we all work on we need to understand these things.