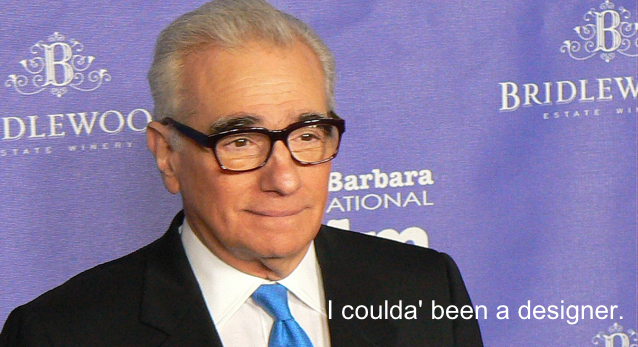 Photo Credit:
sbclick
Movie directors aren't that much different than designers when you really think about it. Consider everything that goes into making a movie — the script, the pre-production planning, the actual filming, the editing, and the release. That process isn't that much different than the design process.
Directors sketch out their story through the script and storyboards. They timebox the production from beginning to end. Editing is like code hacking, shaping the film into a viable product. Then they release their films (read: products) out into the world, where they receive feedback from critics and moviegoers. And they, hopefully, take that feedback and integrate it into their next film.
One director that has a designer's mindset is Martin Scorsese. Sure, aspiring filmmakers have picked apart his career, dissected his movies. But designers and entrepreneurs can also benefit from studying this Oscar-winner's approach to his work.
Know Your Artistic Roots
Scorsese wasn't only well-versed in his cinematic past, but he respected that history and was heavily inspired by it. You can see that influence in "Raging Bull," which the director freely admits was inspired by his favorite film, the 1948 ballet epic 'The Red Shoes.' He took that movie's theme of unbridled determination and used that as the basis for his film.
What Scorsese did wasn't imitation, but innovation. He took an idea that had already been done and improved upon it. Which isn't too unlike Steve Jobs, who saw opportunities Xerox missed with its mouse and personal computer then improved upon it with his own computer. Like Jobs, Scorsese exposed himself to the best of everything that had come before him, seizing opportunities to innovate and make something unique.
More than that, designers who know their artistic roots like Scorsese can borrow from the hard lessons of their forebears, creating a competitive advantage.
Consider another Apple product, the iPod. Apple designer Jonathan Ive took a page from Kodak and Walter Dorwin Teague, who was among the fathers of modern industrial design. Kodak wanted its black-colored cameras to appeal to women and a broader audience. Teague had the idea of camera that came in five different colors, which led to the release of the Vanity Kodak in 1928. Ive took this lesson and applied it to the iPod, coming up with the innovation of a smaller device that came in various colors.
Dabble in Different Disciplines
Despite being associated mostly for his gangster movies, Scorsese hasn't limited himself to one genre of film. His oeuvre is wildly eclectic, ranging from boxing films to biopecs ('The Avator') to even television ('Amazing Stories'), as pointed out by this excellent Fast Company interview with the director. He's also dabbled in producing, screenwriting, and acting.
While Scorsese's main skill set is directing, dabbling in different disciplines has allowed him to be highly adaptable as a creative person. This is not unlike what we call a T-shaped individual. As Tim Brown, of IDEO, defines it: someone with a deep, specific skill set that can learn about and work with other skills and disciplines in any given business.
Designers, like directors, can't limit themselves to one particular skill set, they have to be T-shaped individuals. They have to be willing to learn and work with other disciplines to come up with innovative solutions to problems.
Coulda' Been a Contender
Over the decades, Scorsese has managed to remain relevant as a filmmaker, adapting easily to a business that, like product design, is always in flux. He's done that partly by innovating what's come before and working collaboratively with different disciplines. If he hadn't gone to Hollywood, Scorsese would've been a great product designer. He coulda' been a contender.