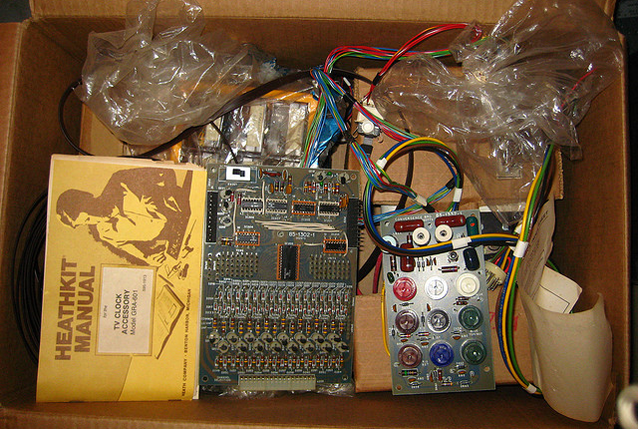 Picture of a typical Heathkit Steve Jobs would be fiddling with during his childhood years. Image:
riney
People tend to believe that most of the great product ideas Steve Jobs came up with emerged solely from his vision. They think he was the "lone genius", that he simply thought of these products one day, built them and changed the world. It's hard to buy into this myth. There is one crucial factor people are missing in this story, and that is the countless hours of practice he put in before making his discoveries.
Many of you probably remember Malcolm Gladwell, author of Outliers, publishing his finding that it takes 10,000 hours of education and practice to master a complex skill, to achieve true greatness. In Outliers, Gladwell cites numerous studies of people most of us consider "gifted" who have put an enormous amount of practice into their craft. In another book, titled Genius Explained, Dr. Michael Howe estimates that Mozart had close to 3500 hours in practice with his father by the time he turned 6 years old.
Which brings us to Steve Jobs. Was Steve Jobs talented? Sure. But his success was the outcome of thousands of hours in practice from childhood through adulthood. He worked much harder than most other people.
Childhood
As a kid, Jobs spent countless hours putting together electronics and playing around with raw parts trying to understand how they fit together. His own father introduced him to Heathkits, which fascinated him. Here is a quote from a 1995 interview with Steve:
These Heathkits would come with these detailed manuals about how to put this thing together and all the parts would be laid out in a certain way and color coded. You'd actually build this thing yourself. I would say that this gave one several things. It gave one a understanding of what was inside a 'nished product and how it worked because it would include a theory of operation but maybe even more importantly it gave one the sense that one could build the things that one saw around oneself in the universe.

These things were not mysteries anymore. I mean you looked at a television set you would think that "I haven't built one of those but I could. There's one of those in the Heathkit catalog and I've built two other Heathkits so I could build that." Things became much more clear that they were the results of human creation not these magical things that just appeared in one's environment that one had no knowledge of their interiors.

It gave a tremendous level of self-con'dence, that through exploration and learning one could understand seemingly very complex things in one's environment. My childhood was very fortunate in that way.
Adolescence
There is a great example from his 2005 Stanford commencement speech, where he talks about learning typefaces and spacing between letter combinations. He spent thousands of hours in his late teens perfecting and learning typefaces and spacing. Here he is speaking about it:
Throughout the campus, every poster, every label on every drawer was beautifully hand calligraphed'I learned about serif and sans serif typefaces, about varying the amount of space between different letter combinations, about what makes great typography great. It was beautiful, historical, artistically subtle in a way that science can't capture
Adulthood
Steve's passion for practice carried through from his childhood years, to teenage years, to his work at Apple. We tend to forget the multitude of product flops Apple had in order to arrive at the place they are at today. All of these failures are great examples of thousands of hours of practice that Steve Jobs accumulated building these products. We recently put together a list of all the product flops the company had, let's recall just a few of them:
1. The Lisa - Apple's first product that combined a graphical user interface with a mouse.
2. Macintosh Portable - which was anything but portable. It weighed 15.5 pounds.
3. The Newton - was a pricey and bulky PDA introduced by Apple in 1993.
4. The Quicktake - which was one of the first digital cameras on market.
5. Macintosh TV - a computer launched in 1993 whose monitor can function like a TV.
Conclusion
You can start to see how thousands of hours practicing helped Steve innovate and building groundbreaking products. What else do you get in return for your 10,000 hours of practice? Trust from employees. A study conducted by Krauthammer surveyed 497 employees and revealed that only 58% of the employees surveyed believed in their CEO. See the breakdown below.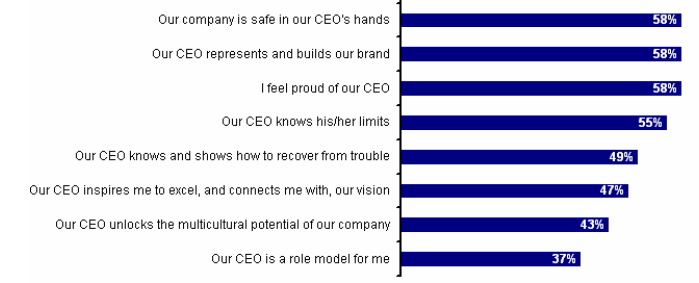 According to the employment reviews and rating site Glassdoor, 97% of employees approved of Steve Jobs as CEO — making Steve one of the most successful CEOs among those rated on the site.
This is what 10,000 hours of practice gives you: products which change the world and 97% approval from your employees. Steve Jobs wasn't a lone genius, he simply practiced much harder then most other people.