You've probably seen or heard by now Facebook co-founder and CEO Mark Zuckerberg's first interview since the social network went public. With shares trading around $20, Zuckerberg called the IPO a disappointment. Here's what Zuckerberg said at TechCrunch's Disrupt:
In the next three to five years, the question that's on everyone's mind that will determine at least our performance over that period is really well we do with mobile.
At the same time, Zuckerberg reiterated Facebook's mission to make the world more open and connected. Or as he put it:
The statement "we don't build services to make money, we make money to build services" really goes to the heart of the philosophy we've been running the company. There's no doubt that we're a mission-driven company.
He said building a mission and a business "go hand-in-hand."
Zuckerberg's interview comes on the heels of a visit by the Winklevoss twins at ZURB HQ last Friday, where they addressed not only the IPO but what it takes to transform a great product, like Facebook, into a great business.
"It Starts Today or Three Months Ago"
We had a packed house when Tyler and Cameron, who are now principals at Winklevoss Capital, dropped in for their ZURBsoapbox. They were very upfront about their early days at Harvard, where they co-founded ConnectU. A story that was immortalized on the silver screen in "The Social Network." They answered our questions with a combination of good humor and great insight. During our discussion, they shared their insights into the Facebook IPO.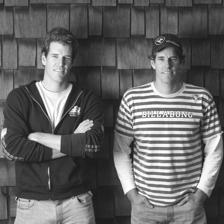 As Cameron said:
You have a situation where mobile was something you could see a year out and so it's confusing why it's all of a sudden, we have to monetize for mobile.
Both compared the situation of Facebook and mobile to Saddam Hussein believing he actually had weapons of mass destruction, or at least according to one theory they heard from a journalist covering that story. The theory is that Saddam's lieutenants told the dictator the weapons existed to save their own butts. That's why Saddam fought so hard to keep inspectors out. As Cameron put it:
It's like the emperor has no clothes. If you don't have the governance and the structure in place and the people who could challenge you and give the hard questions. And if you're not doing your job, kick you out.
It's what Tyler called the Dictator's Dilemma, where you're not necessarily getting the right feedback from those around you.
In the end, mobile was something that Facebook should've seen coming a year or two before they went IPO. The twins said that Facebook was more focused on user experience than building a great business. As Cameron said:
I don't see Facebook describing themselves as trying to be a tremendous business and I don't see why you can't have both, and, ultimately, you need both.
Evaluating a Leader
Tyler and Cameron both said that now was a crucial time for Mark Zuckerberg as a business leader. Cameron said:
Now is really when you start evaluating a leader, and saying, "OK what are you going to do with these billion people? How are you going to build a business?" It really starts today or three months ago. And that's when a leader is shown. You have to ask yourself, if you were to take Mark and put him in another company, can he lead that company? That's a question that a lot of people would say they're not sure. But if you took someone like a Jeff Bezos and put him in Facebook, he could figure that machine out.
The twins said that others, such as Amazon, also had rough beginnings. What remains to be seen is whether Facebook has the right governance structure in place to move forward.
Hear More Insights from the Winklevoss twins' ZURBsoapbox