We've recently written about progressive design and the role successful designers play in helping companies build great products. Design leadership is an important part of this conversation.
From designers using their thinking skills to the turbulence of the current design environment, it's clear that we view design as a significant business opportunity for companies to grow.
It's been shown that companies that embrace design driven principles produce better financial returns. Design-driven companies need leaders that can drive this value. But we don't see enough business structure in place to help companies and designers thrive together. Creating design value is more difficult than throwing designers at problems. We need leaders.
We need design leaders to increase the value of design in organizations and it's not going to happen without more methodologies to define problems and shape business outcomes. Lean and Agile methodologies, while customer-centric, focus more on business and technology problems, but don't help us utilize the power of design. Both have great ideas, yet neither help designers effectively find leadership tracks. Progressive design is not only a way to bring design into organizations, it's a way to train and foster design leaders.
You Manage Things, You Lead People

Grace Hopper, an American computer scientist, captured it nicely when she stated that we manage things, but we lead people. Design management shapes business processes and decisions to effectively create things, whether that thing is a product, service or environment. Design leadership has emerged more recently as an important progression in our design thinking to drive innovation, inspire teams and create growth opportunities within organizations. Both are important and create immense value in organizations.
Management in design circles isn't new. Design management started at the turn of the last century, with a goal of streamlining things. And for much of the next 70 years, design management stayed primarily in the production realm, focusing on making products more integrated. Design management is an important part of growing design in an organization, but design management alone won't facilitate the growth of design leaders.
Much has been written on the topic of leadership and management, so it's not necessarily worth dragging too much of this into the design discussion, but it's worth noting the differences between leadership and management. With the rise of the knowledge worker, "one does not 'manage' people," Peter Drucker wrote. "The task is to lead people. And the goal is to make productive the specific strengths and knowledge of every individual."
In his 1989 book 'On Becoming a Leader,' Warren Bennis writes:
The manager administers; the leader innovates.
The manager is a copy; the leader is an original.
The manager maintains; the leader develops.
The manager focuses on systems and structure; the leader focuses on people.
The manager relies on control; the leader inspires trust.
The manager has a short-range view; the leader has a long-range perspective.
The manager asks how and when; the leader asks what and why.
The manager has his or her eye always on the bottom line; the leader's eye is on the horizon.
The manager imitates; the leader originates.
The manager accepts the status quo; the leader challenges it.
The manager is the classic good soldier; the leader is his or her own person.
The manager does things right; the leader does the right thing.
Design management is a critical component of design leadership. Designers need to learn how to manage if organizations are to find and develop more design leaders. Progressive design is an opportunity to shrink the problem of managing design to the essentials so designers can learn to build trust with their coworkers. It's a way for designers to learn leadership.
Design Management is a Building Block

Companies desire design leaders, but they're going to need to provide more design management training before we see design leaders emerge in the corporate ranks. Design requires a healthy understanding of top-down and bottom-up strategies, and this isn't easily learned without first being a practitioner.
Why is design management so weak? Management, by nature, can put roadblocks in front of creative thinking and innovation. And designers have healthy doses of skepticism for management, spurned by a lack of trusted role models in corporate structures. Many designers dream of being respected by their peers and put many of their ideas on sites like Dribbble to capture that validation. It's more of an Oscar fantasy than a JD Power award. Aspiring to manage isn't high on the list of designers, and most design environments don't foster management thinking.
Designers want career paths and advancement, but don't know what that means in a business environment (nor are companies figuring out how to provide it). Companies are just starting to realize the benefits of being design-driven. There's a hunger, but not enough role models to create these opportunities. Many designers are not aware of what managers and leaders do on a daily basis. I don't hear many designers who want to scale a management ladder.
Design management requires some of the same training as a traditional business management tract, but there's one big difference. One of the most important aspects of design is having empathy for users, which means we learn to manage for emotions and varied results. It shares a similar goal of good customer service with corporate brethren, but goes much deeper into understanding the desires of people. This takes years of practice and development to fully understand how design affects the user experience.
Finding Design Leaders in Corporate Haystacks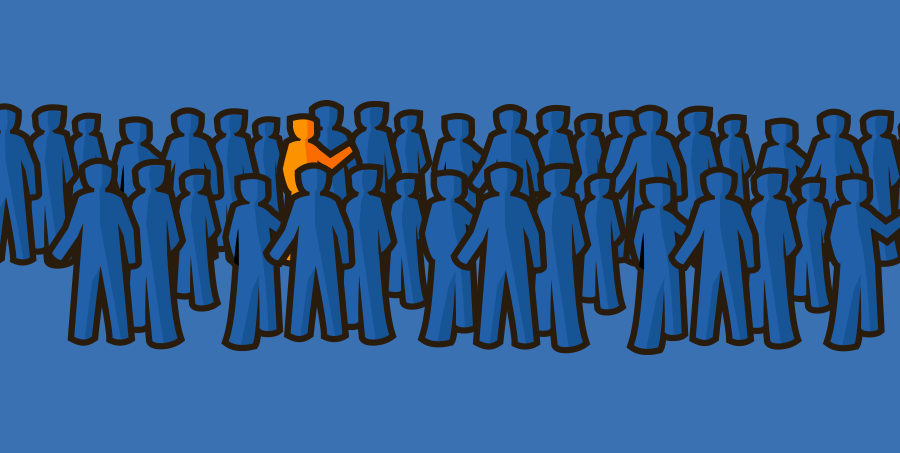 It's easy to see why leadership gets lost when companies try to pull leaders from design circles, people who typically start their careers by creating things (often very early before they even know what design is). Most designers get excited about being a designer because they enjoy creating things and applying color theory, type, software, etc., not managing. Heck, peruse Dribbble and you'll realize most 'things' designers create don't even have to be real. Asking a designer to let go of these desires puts doubt into their mind. It becomes an 'either/or' discussion: be a designer or be a manager.
Companies who desire to be design-driven face leadership gaps. It's hard to foster design leadership without business structures that support design. And because of this, there's a dearth of design leaders in companies. The current industry talent model is more about finding leaders than developing them. Teaching designers management basics can improve the overall effectiveness of design-driven organizations. This type of management training needs to be specific to design management, which includes developing designers who can lead and think, not just manage a production line.
Design leadership isn't just the domain of designers with titles. It's designers taking initiative to drive better products and services in their companies. Product designers are faced with this effort daily. Progressive design empowers designers to drive design cross-functionally in organization. This has been the domain of a product manager, but we need to broaden responsibilities of designers if we truly want to create great products.
By utilizing the basic principles of progressive design, designers can begin to focus on higher-level thinking without having formal management training. Knowing how to manage design is the start of strong design leadership. Progressive design is an opportunity for designers to learn how to manage projects, and more importantly, a way for them to lead by design.
Who Will Fill These Design Lead Shoes?

Companies want to gain a business advantage with design. When IBM says that it's hiring thousands of designers, it's really building a management structure. It's got all the right buzzwords: 'IBM Interactive Experience is an industry first — a management consultancy and systems integration company combined with a digital agency powered by data and research.' But really, what does that mean?
Who are the leaders in organizations helping designers aspire not only to manage teams, but lead product visions? As highlighted earlier, product vision requires finding harmony in product management and leading people. Product design has a lot of crossover with product management. Good product managers are great designers. Yet many people in this role struggle to create real value because most organizations are not set up to influence without authority. That, and the risk to product managers, who typically don't 'own' resources, becomes a roadblock to driving innovation through design.
Many organizations have tried to close the design leadership gap by inserting UX groups into the mix to keep their eye on the user. It's a strategic effort to make experiences better for people, but most organizations have stuck to a production-line-oriented mindset, which prevents any real value generation for users. This approach also prevents design leaders from emerging to create value across the business and users interactions with an organization. The user benefits that companies really seek come more from a function of design leadership and management that this approach blocks.
Engineers suffer from similar issues, though design leadership requires more than managing product problems. Design leadership is based heavily on influence and fuzzy problem solving. The argument can be made that the people we seek to lead design are right in front of us, we just don't have enough methodologies to support their growth so they can influence through design. My own story is similar to most designers who have taken on the challenge of growing an organization around design.
You Can't Take Design Out of Design Leadership
As a Chief Instigator, I started my career as an independent contributor. I enjoyed the process of creating things. I did this for years and I'm probably similar to most design leaders. Managing was a natural progression, but I was unprepared for the demands of management earlier in my career. I'd been a leader and captain for many successful sports teams, but the commitment required to lead and manage designers is more encompassing.
Like many design leaders, my training has been vastly self-taught. Making the transition from creator to manager a was bumpy ride at times. My own lessons are the ones that have shaped my skills and provided direction. Here's a good lesson on reading the room from a post I wrote on Luke Wroblewski's blog in 2006:
What's the most important skill of business decision-making? Knowing what drives people to make decisions. Getting groups of people excited about an idea requires understanding what motivates them. You might have the best ideas in the world, but if you fail to understand the dynamics of the room, you may never get past your first idea.

In my first consulting gig I was invited to present a proposal at a board meeting, unaware that this public company's entire executive team would be in attendance. There were two billionaires sitting at the table. Really. I was wholeheartedly unprepared to sell a single idea to this crowd. I tried getting the group to brainstorm, using some techniques that had been successful for me in past situations. But in less than five minutes I was told, 'I think we're done here.' Ouch. It's a lesson that rings in my head all the time.

Reading people is a skill that can be learned, but getting really good at it comes as the result of years of practice. Every meeting, every conversation is an opportunity to hone your skills.
I still work on design projects because they keep me grounded and invested in the trends, and frankly I know how fast I can become obsolete. It's a hard tradeoff for any designer who seeks to disrupt trends and shape our industry. What makes many design leaders unique is that they can be managers and contributors.
It's that experience that shaped the way we think about design leadership. Early in ZURB's history, I saw an opportunity to develop designers who managed through spheres of influence. This has been an amazing opportunity for us to create real value in companies, but it's also created difficulty in helping designers learn basic management. Progressive design has been the way we help designers own the project management of a design project and push innovation forward.
Growing Design Leaders

How can companies utilize the power of design without leaders? Being sympathetic to design isn't enough —the entire organization needs to be inspired by this effort. Finding and growing design leaders is the next big challenge facing design organizations.
Design leaders don't have the collective influence an industry might provide. Design has changed greatly over the last decade, though designers have not fully embraced their potential as leaders in companies. Design leaders must design for continuous influence, as pixels no longer carry as much value.
A commitment to growing a design-centric organization requires design leaders. They need tools and methodologies the overlap with the entire organization. And they need a way to manage design. Learning to manage projects through progressive design is a great start. It provides a way to find cross pollination with different groups within.
(thanks to Irene Au and Brian Williams for their insights on the post)
---
Bryan Zmijewski
Leading the charge at ZURB since 1998
Our fearless leader has been driving progressive design at ZURB since 1998. That makes him quite the instigator around the offices, consistently challenging both the team and our customers to strive to always do better and better.
Learn more →
Follow him at @bryanzmijewski