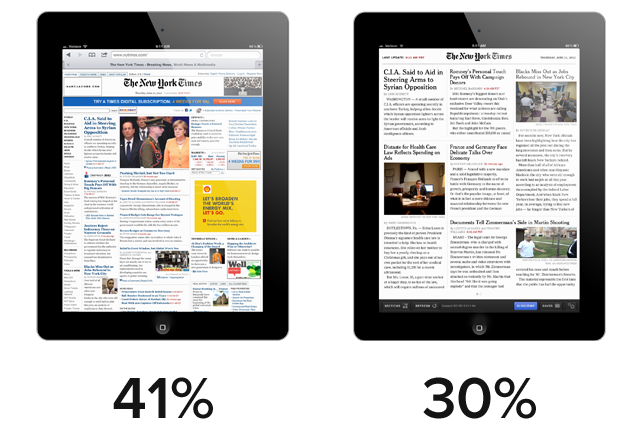 Go onto your tablet's app store and you'll find more and more periodicals, newspapers and magazines turning to native apps. And it's not just the traditional print media, such as The New York Times, that's doing it. Even the online magazines, like Slate and HuffPo, are going native. Problem is that a majority of readers don't like reading on native apps, according to a recent Online Publisher Association's study.
And the numbers are telling:
41% of tablet readers prefer checking out the headlines of their favorite magazines or newspapers on a browser than a native app.
30% prefer native apps.
22% prefer reader apps, such as Readability and Zinio.
Out of the same 2,540 people surveyed, 71% prefer using tablets to mobile phones when reading the latest news. The most telling is that 59% prefer the tablet over the desktop to view periodicals online. Very soon desktop traffic will be eating dust as mobile overtakes it.
Some periodicals get the importance of the responsive web and designing with mobile in mind. Smashing Magazine earlier this year joined the responsive ranks. The Boston Globe has also embraced the responsive web. The New Yorker is also getting in on the mobile game. Even Slate has a mobile version of its site. But having one design that's responsive and works across all browsers would be better than siloing your site into a desktop version, a mobile version and a tablet version.
When the dust settles, it'll be the responsive web that will outlast the native app. It may not happen tomorrow, but there will be a day when more and more people turn to browsers rather than native apps. And the responsive web will take on more characteristics of native apps (we're working on this right now). Newspapers and magazines can't afford to get stuck in native apps and these numbers show that they shouldn't.
What say you?