It'd be an understatement to say that Pinterest is on fire right now. The social-media pinboard, where we can pin our heart's desire or just anything that piques our interest. And like anything that's hot, imitators are sure to come out of the woodwork. Take the new, rebooted MySpace, for instance. Or social-network juggernaut Facebook, who is trying to get in on the action with it's new Collections feature.
But it's that endless blocks of content, seemingly streaming forever downward that's captured our (wait for it ... wait for it) pinterest. Which is something User Centric recently pointed out in this excellent article on the site's UI. The person who helped build that unique grid was a college dropout, believe it or not.
Sahil Lavingia, the First Designer of Pinterest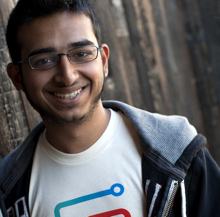 When Sahil Lavingia was a computer science student at USC, he was recruited by Ben Silbermann to get Pinterest off the ground. Soon Sahil was packing his bags and dropping out of college to become one of the founding members of the popular pinboard site.
As the first designer for Pinterest, Sahil plugged away at the front-end code to building the iPhone app. He was instrumental in creating the look and feel of the site that so many are now rushing to imitate. Suffice to say, he's a person of (wait for it ... wait for it) pinterest.
As an old friend would say, we're super excited to have Sahil come down from San Francisco to ZURB HQ next Friday, Oct. 19, so he can get on his soapbox and tell us the challenges he faced in designing the pinboard's unique interface.
RSVP now for Sahil Lavingia's ZURBsoapbox
Where:
ZURBHQ
55 North 3rd Street
Suitness 100a
Campbell, CA 95008
When:
Friday, Oct. 19th, 2012
from 12:00-1:00 PM