It's no secret that mobile web traffic is on the rise. In the United States alone, about 20% of the web traffic comes from people browsing the internet on their mobile devices. Around the world, it's more than 10%. Mobile web traffic will outpace desktop web traffic real soon — sooner than you think. We have to be prepared for that.
Our products and services have to work across all devices, be it mobile or desktop. After all, we're designing within four corners no matter the size. So that means making sure our designs look good on an iPhone or a MacBook Pro. One way to do that is to simply view our designs on an iPhone. But what if you find that an aspect of your mobile product looks a little ... funky ... and you're nowhere near a computer? You could snap a quick screenshot then email it to yourself. But you can't annotate an email with feedback for your team.
Nor can you snap a picture of a full-length webpage. You'd have to snap several pictures of the webpage then email each individual screenshots. If you use our annotation tool, Notable, you'd still have to take the extra step of downloading the picture then uploading it up into the app. And that can slow down your workflow. Worse, you might loss steam and forget what it was that you thought needed to be improved.
Heck, that's happened to us. We'll see something that could be revised, snap a screenshot, email it to ourselves, then download the picture only to have to reload it into Notable. It's a pain in the butt. We knew there had to be a way to cut out the middleman in this process.
Introducing the Notable iPhone Uploader
Today, we're excited to announce the release of the new and improved Notable iPhone Uploader, which allows you to capture full-length mobile webpages. You can also upload any image from your camera roll or even snap a new photo with your iPhone's camera then send it directly to your Notable account.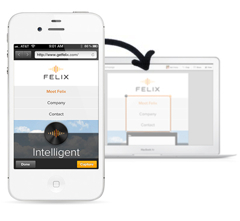 Uploading is as easy as 1-2-3. Once you download the app from iTunes, you can start using the app with your Notable account. You can then browse the web, navigate to the page you'd like to upload and click the orange "Upload" button. The entire full-length mobile webpage will be uploaded and waiting in your Notable account. Once you get to a desktop or laptop, log in to Notable. Your upload will be there ready for your to add notes and share the post with your teammates.
The Notable iPhone Uploader is available for download now at the iTunes store. Tell us what you think about the uploader!
Install Notable iPhone Uploader