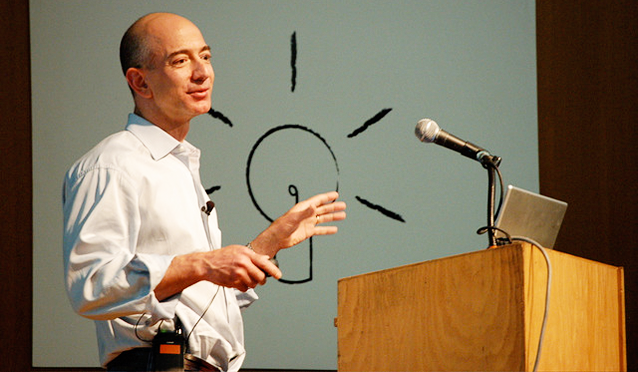 Photo credit:
Alisa Aria
During a recent Wired interview, Jeff Bezos was asked the following question:
You've also given $42 million to the Long Now Foundation for the development of a giant clock designed to last for 10,000 years. Does that project relate at all to what you're doing at Amazon?
Here is what he had to say:
It does fit into my view. Our first shareholder letter, in 1997, was entitled, 'It's all about the long term.' If everything you do needs to work on a three-year time horizon, then you're competing against a lot of people. But if you're willing to invest on a seven-year time horizon, you're now competing against a fraction of those people, because very few companies are willing to do that. Just by lengthening the time horizon, you can engage in endeavors that you could never otherwise pursue. At Amazon we like things to work in five to seven years. We're willing to plant seeds, let them grow'and we're very stubborn. We say we're stubborn on vision and flexible on details.
In some cases, things are inevitable. The hard part is that you don't know how long it might take, but you know it will happen if you're patient enough. Ebooks had to happen. Infrastructure web services had to happen. So you can do these things with conviction if you are long-term-oriented and patient.
A few years ago, Bezos spoke about the three main takeaways he learned running a business over the years. "Think long term," was one of the three takeaways Bezos emphasized.
Why focus on long term so much when building product?
Amazon.com exists today because of Bezos's unhealthy obsession with customers. The only way to focus on customers and think on behalf of them is to think long term, Bezos says. Most initiatives Amazon undertakes doesn't pay any dividends until 5 to 7 years in. Customers might see the benefits a bit sooner, but company shareholders have to wait.
We embraced this thinking as we conceived and worked on Foundation, our framework for building prototypes and production code for any kind of device. Mobile traffic is already overtaking desktop traffic in some parts of the world, and soon it will in the U.S., but the barrier for some people to create sites that work across devices is still seemingly too high. We built Foundation to help lower that bar enough to not only make it accessible for web designers, but to encourage them to prototype and build much faster than they have before. In the future, sites and apps will have to support a range of devices; we're thinking about this problem right now.
If you want to focus on your customer, think 5 to 7 years ahead, not the 5 to 7 months ahead you're comfortable with.