Customer service is a core part of ZURB's day-to-day operations. We spend a lot of hours ensuring that each of our customers can take full advantage of the apps that they invest in.
In the most traditional sense, customer service is actually quite basic. A customer has a question, gets in contact with the company and gets their question answered. Perhaps it's not always this easy, but at its core, it's a transactional exchange of information for a time.
When it comes to ZURB (and product design), however, customer service is a completely different animal. No longer is it just a transaction — it has to be a fruitful conversation. A customer service advocate must not just answer the questions of the customer, but understand the bigger picture about how the issue translates to the broader business goals.
Customer inquiries differ greatly, but we gather valuable information from every interaction that helps shape our business. On the most basic level, bug reports turn into bug fixes. Two other key insights include curated feedback that lead to gut reactions on product, as well as feedback that helps shape our long-term business strategy.
How Customer Feedback Helped Us
Let's look at two examples about how our customer feedback helped contribute to change in one of our products, Notable.
Louis, our customer service advocate, noticed early on in Notable's lifecycle that several customers were confusing Workspaces with standard Notable posts. The recurring issue was confusion between how posts and Workspaces differed given they were all integrated into a single dashboard.
Understanding this feedback, we separated Workspaces into a new right-hand nav, keeping only Notable posts in the upper navigation bar. While customers continued to have some questions about Workspaces functionality, the design change clarified how users should view posts and Workspaces as separate entities. Take a look on the image below (click for a larger picture):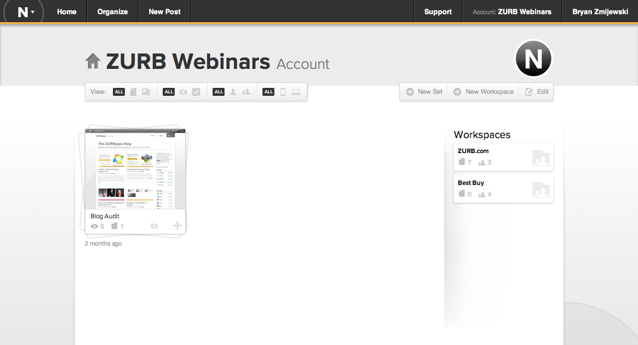 We integrated CSV export functionality into Notable results because of customer feedback as well. Several customers requested an export option so they could store their Notable data, so we developed a small browser hack to meet their needs. By simply adding .csv to the end of the HTML link of the Notable results, a user could now download results for offline use.
Through identifying CSV exporting requests as a trend in customer interactions, we developed a solution that would fill that common user ask. Collectively, user feedback led to a gut feeling, which resulted in making this change for the users. It's just another example of how listening can have a positive impact on your product.
It's important to not just address customer needs, but gather feedback through fruitful conversations with our customers. Through this, we build better products that help people design faster and better than before. Don't underestimate the value of customer interactions in helping your business meet and exceed business objectives.
How does your organization think about customer service?