The fall cold has officially set in on the Bay Area. As we break out our fall jackets and coats here at ZURB, we're not going to be deterred by the onset of the frigid weather.
In fact, this week, we'll speak at two of San Francisco's hottest startup venues. You, too, can break out your fall jacket in style and head out to see one (or both) of our speakers talk product design in the city.
The Future Is Responsive
On Wednesday, November 14, Chris Michel, a Design Lead here at ZURB, will speak at Storify HQ. He'll speak on responsive design, and how the future of responsive, as we know it, is already here.
The group, Hacks/Hackers SF, will meet at 7:00 PM tomorrow night. You can get more information at the Meetup page.
Turning Mediocre Products Into Awesome Products
If you can't make it out to Wednesday's event ' or want to double up on ZURB event goodness ' you can join us on Thursday, November 15 at Votizen HQ. We'll show you how to turn a mediocre product into an awesome product.
This speaking event will be led by our own fearless leader and Chief Instigator, Bryan Zmijewski.
The Lean Startup Circle, host of this event, will congregate at 6:30 PM tomorrow night. If you're interested in attending this one, take a peek at and register at their Meetup page.
ZURBsoapbox with Jeff Lawson, Co-Founder and CEO of Twilio
Earlier this month, we announced our November Soapbox event. Jeff Lawson will join us for a nice conversation on Friday, November 16, here at ZURB.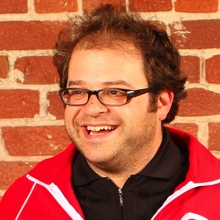 RSVPs for the event are still open, and going quickly. Make sure to reserve your spot to see the CEO of one of the hottest Bay Area startups speak on how he built his company into one of the most successful telecommunications companies today. RSVP today, seats are limited.
We really hope you can join us for one, both or all of these events this week! If you have any questions regarding these events, feel free to reach out to [email protected].
If you're interested in booking a speaking event or speaking at a future ZURBsoapbox event, reach out to Forrest and let him know this as well. We're excited to hear from you.