We had fun chatting with Ade Olonoh, CEO and founder of Formspring, for his soapbox earlier this month. He gave us great insight into what it takes to get to 10 million users quickly and keeping them. It all comes down to your core product, he told us.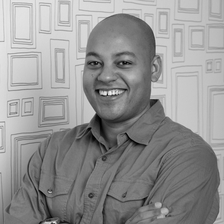 Formspring hit those 10 million monthly users within two months of launching in 2009. To put that into perspective, it took Pinterest nine months to get 11.7 million users. Think about it, Formspring accomplished this amazing feat faster than one of the hottest social networks today. Formspring hit 25 million users last year.
While the Q&A site has had its ups and downs in terms of users, Ade said they learned a very important lesson in terms of engagement. He realized that a lot of people were checking out the site to check out the site. They weren't really engaged.
It was "I should check this out because everyone else is checking this out."
Engaged User vs. Just A User
To keep users engaged for the long term, Formspring had to learn the difference between a user and an engaged user. Ade said they use a lot of internal metrics to ferret out those who are just checking out the site from those who actually use it.
The team do this by focusing on Formspring's core Q&A mechanics. They basically ask themselves:
How are users engaged with posted content?
Is it even good content?
Does it generate responses?
How many responses does a post get per day?
When it comes to keeping users engaged, however, Ade said:
Really comes down to building a good core product and understanding what people want in the world and the Internet and creating that in some fashion.
Appeal to Human Psychology
Another aspect of Formspring that keeps users' engaged is its appeal to a basic human psychological need —'the need to talk about ourselves. As Ade put it, we are all in a way narcissists. Don't get him wrong. It's not in a negative way, only that people like to talk about themselves with other people.
For example, there is conversational narcissism, where we subtly turn the conversation back to ourselves. Take a conversation with a friend who's talking about problems with his girlfriend. We may empathize with our friend's problems, nodding and listening. But there will come a point in the conversation where we say, "You know what my girlfriend did the other day." We've just steered the focus of the conversation back to us.
Psychology plays a key role in how Ade approaches product design. In other words, what are the psychological triggers that are foundational to the product. But, in the end, it all comes down to the core product and whether it's meeting those needs.
To hear more about engaging users and other great takeaways, check out our podcast and summary of Ade Olonoh's soapbox:
Check out the Podcast & Summary of Ade Olonoh's Soapbox