We had a great time earlier this month when Sahil Lavingia, former Pinterest designer and founder of Gumroad, stopped by ZURBHQ to get on his soapbox. What really stood out for us was when he spoke about building products that he wanted to use. Or as he put it:
I only want to build stuff that I can use myself.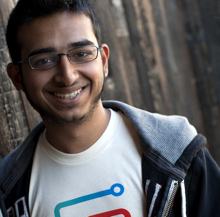 Think of it this way. You have to start with yourself, asking whether this is something you would use or if it solves a problem for you. That's how a lot of Sahil's products, especially his earlier efforts, started, he told us.
Before I was "I wish this existed" and that was the end of my stream of thought. And now it's like, "I wish this existed ... wait a second, I can actually build this stuff myself."
He said every product he's every built was to solve his own problems.
Your Own Feedback Loop
The best part about building a product that you want to use is that you have an instantaneous feedback loop.
You're gonna start with yourself then you're going to have a pretty good person to ask whenever you want about is this product working for you. And then you can worry about getting a second user. If you start with zero, you have no body.
Using your own product allows you to figure out how crappy your product is, he said. If you're building for someone else, then you have to wait until that person tells you what's working and what's not. This approach helped Sahil figure out that parts of Gumroad weren't working early on in the process.
It's really hard and really confusing ... and I built this thing.
It all boils down to having to eat your own dog food. Sahil has a point. Consider it this way: if you don't want to use the very product you build, how can you expect that others will want to use it? More than that, how will you know firsthand that you built a dud or not?
Hear More Insights from Sahil's Soapbox