Six years ago we embarked on our first defined mission with a general sense of direction and cautious optimism. It was ambitious and pushed us to where we are today- an amazing design company that turned the idea of a consultancy upside down. We had the foresight to understand that solving digital design problems required more than just delivering some assets. Nothing about the mission was easy, but we did it. As a leader I was committed to making it happen for ZURB.
Today we're publishing our new mission. It's equally ambitious, but backed by the knowhow of seventeen years of design experience and the momentum of millions of designers around the world. We're excited to share our vision and hope that you can support us as we aim to provide the world with new and effective ways of solving design problems. The process of aligning everyone on the team around a set of statements that define our business wasn't an easy task. Quite frankly, it took numerous restarts to get things to stick.
Change the Way People Design Connected Products and Services
Our business purpose started with the idea of helping people design for people. It was easy to remember, but lacked the clarity our team wanted. This really was the spark that helped us get things moving to define the next phase of our business. It took about a year with commitment from our leaders and a desire to put a stake in the ground. As a team we dug deep and challenged our assumptions, and through a process of continuous iteration, we were able to define our mission and purpose statements! I'm so proud of our company.
We're a fun and intense group at ZURB, so our ambitions to change the way people design connected products and services shouldn't surprise many of our customers. We're dedicated to pushing the web forward, through frameworks like Foundation, training and design lessons, our design collaboration platform Notable and through our one-on-one Studios interactions with clients. When we pulled back to view our offerings, it was clear that everything we do is about inspiring people and teams to approach design problems in a different way.
This year we introduced a few of the ideas that capture this new design worldview- helping designers lead by design, finding ways to make design thinking practical for teams, and returning us to a place where we trust our design intuition. We call this Progressive Design and we're excited to share this with the world. It's captured in our mission:
Teach fifty million people how to effectively use progressive design to create better products & services through our consulting, training and software.
We believe Progressive Design will change the way designers and teams use design to create value for their users and business. We've put over a year into our thinking and can't wait to invite people into the conversation.
Finding Our Way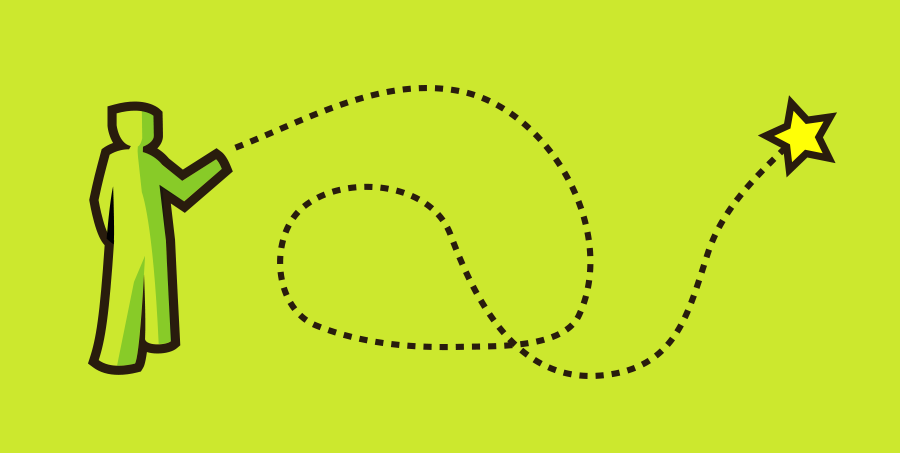 It's great having solid business goals. It's even more important to shape the way our team thinks about their role in this journey. We're a learning company that's based on a pod system, which means we give a lot of ownership directly to employees to solve problems. These core tenets at ZURB form the foundation of our success. We believe in our employees, and we want their success.
We've learned that finding a common purpose requires helping employees create pathways that align with the business. We've put a significant amount of time into defining these pieces. Without them, moving forward can feel downright scary and overwhelming. We want all employees to know that they're supported in this effort to change the way people design. This is the stuff that gets you all warm and fuzzy to start a day. It also creates friction that can make your head literally smoke. This isn't easy for ZURB or the employee, but we wouldn't have it any other way!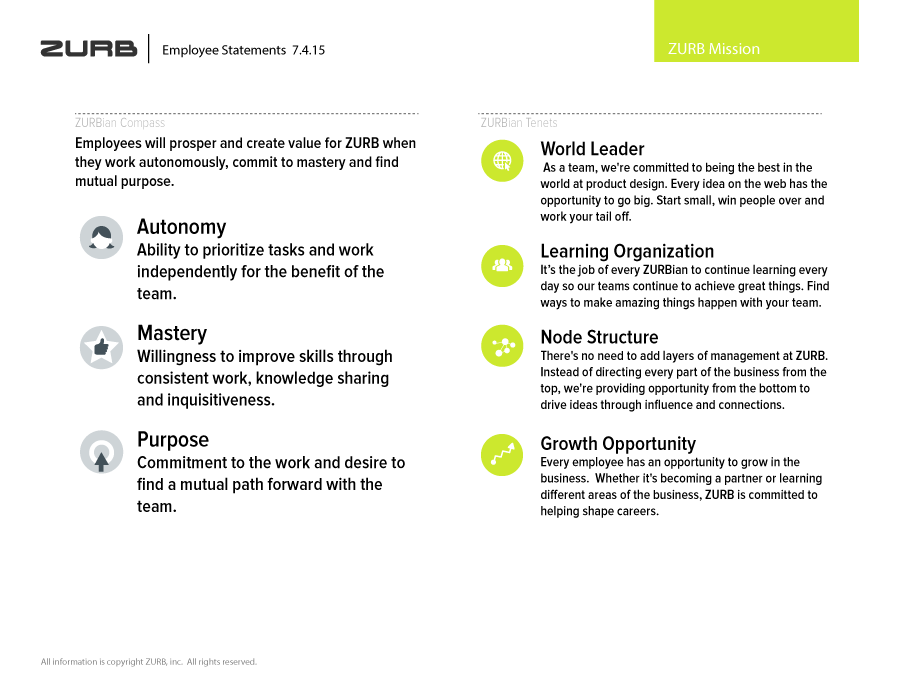 Together, We'll Make This Happen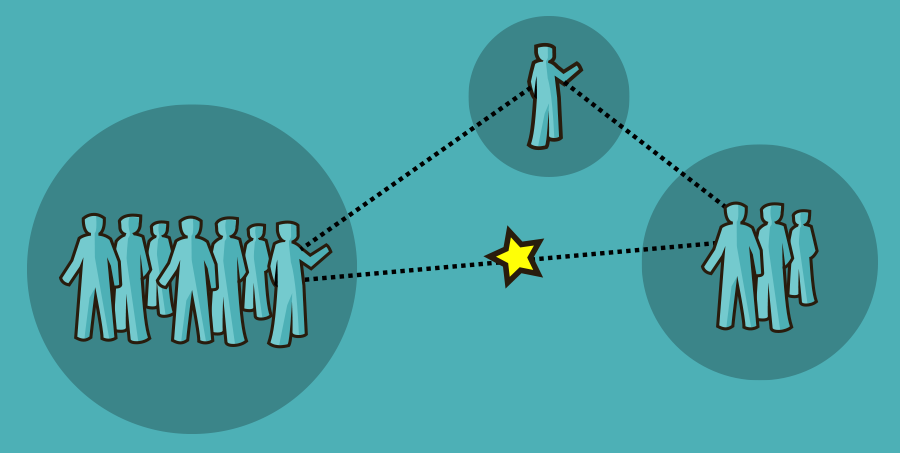 Most businesses align their employees to products- at ZURB we put a heavy emphasis on team development to cross pollinate our ideas and skills. That means each team has a set of tenets they live by to create value for their teammates and the business. These are commitments to make ZURB stronger.
Teams also provide pathways in which ZURB can support individual career paths. Over the last year we've embarked on a new and exciting way to lead employees on a personal mission. Teams play a huge role in this effort and we're smitten with excitement to see our employees shine in this new system. Teams are the backbone of ZURB and we're committed to shaping the learning our employees get through this powerful organizational structure.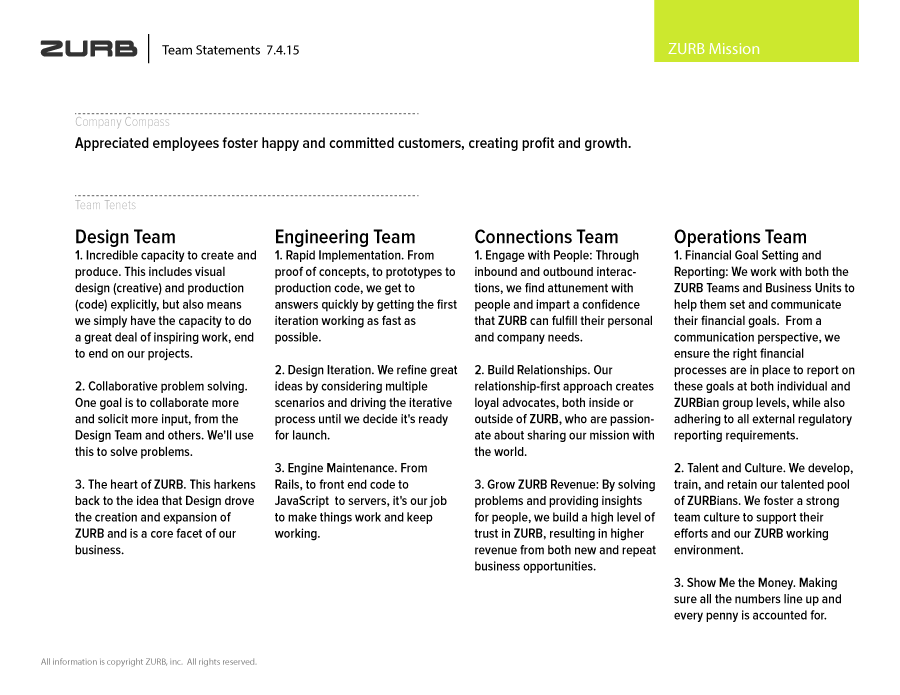 To the Future and Beyond
The next five to seven years will undoubtedly provide challenges we can't even envision yet. But with a strong purpose and vision for changing the way we think about design, we're confident we'll prosper as a team through all the changes that will come. With a solid direction, core values that help us find our center and a team committed to our goals, I can't see anything other than success. It's inspiring!
As a leader I'm filled with joy knowing the team worked hard to find common ground. Our leads created these ideas and our extended team shaped them. We're happy to share our vision and hope that you can help us on our mission.
---
Bryan Zmijewski
Leading the charge at ZURB since 1998
Our fearless leader has been driving progressive design at ZURB since 1998. That makes him quite the instigator around the offices, consistently challenging both the team and our customers to strive to always do better and better.
Learn more →
Follow him at @bryanzmijewski