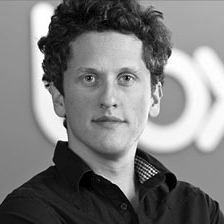 We had a blast at last Friday's soapbox with Box.com CEO and Founder Aaron Levie, who has been named as one of the "Top 30 Entrepreneurs Under 30" by Inc. Magazine. He was one of the most energetic and enthusiastic speakers we've had, cracking jokes and talking really, really fast. It was almost hard to keep up with him! During his nearly 50 minute talk, he gave us insights into the Cloud storage industry and let us in on, what he called, "a relatively easy growth strategy."
See in 2005, Google's long-rumored GDrive was a constant threat that kept Aaron up at night. Box had to do something to combat it. So the company decided to dramatically open up its funnel by giving away a Freemium — a free gigabyte of storage.
While it was a gamble that required getting more VC funding to subsidize the cost, the freemium worked out for Box. The day Box launched its freemium, it was number one on DIGG the day it launched, getting tens of thousands of sign-ups. In the first month, Box had a couple hundred thousand sign-ups.
Turns out when you get free things online that normally cost money, it's a relatively easy growth strategy. You just have to be able to fund it.
While the freemium got lots of sign-ups for Box, it actually drove a wedge between the company and its investor, Mark Cuban, owner of the Dallas Mavericks. Hear and read more of Aaron's insights into those events and why it paid to go Freemium by clicking on the link to the podcast and summary of his soapbox below.
Check out the Podcast & Summary of Aaron Levie's Soapbox