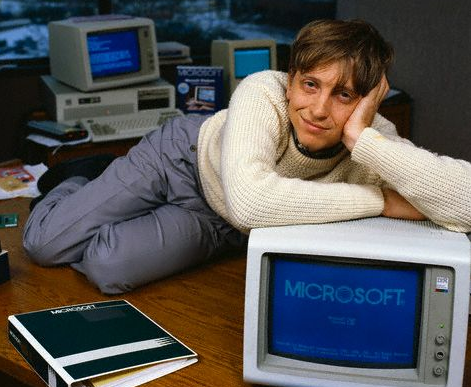 Bill Gates in his office soon after the release of Windows 1.0 in 1985. Photo credit:
Esparta
As I paged through the slides of the 'Turning Mediocre Products Into Awesome Products' talk we gave back in September, I couldn't help but wonder: what makes certain innovators succeed while others who have the same qualifications do not? Is it luck? Is it talent? Were they just born into the right environment and circumstance? As it turns out, luck doesn't have much to do with it.
Jim Collins, the author of worldwide best seller Good to Great, recently completed a nine year research study of the most extreme business successes of modern times. Researchers examined hundreds of entrepreneurs who build their ideas into huge companies that have outperformed their industries by a factor of 10x. The question they tried to answer first was, "how much does luck have to do with how successful the entrepreneurs were?"
Could it be that leaders' skills account for the difference between just meeting their industry's average performance (1X success) and doubling it (2X)? But that luck accounts for all the difference between 2X and 10X? Maybe, or maybe not.
After extensive research, described in a recent NYtimes article, they added up all the evidence and found that 10X cases weren't generally 'luckier' than those who failed to become great in the same extreme environments. The evidence led them to believe that luck (good or bad) doesn't cause 10X success.
Based on this finding, Collins shifted the focus of his research to, 'do you get a high return on your luck?' He used Bill Gates as an example to help explore the answer to this question.
Was Bill Gates Lucky?
Short answer is yes. There are a number of reasons you can bring up that would prove he was lucky:
Gates was born into upper-middle-class family that had resources to send him to private school
His school had Teletype. Access to a computer meant he could learn how to program on it
His friend Paul Allen saw the cover article on Altair (world's first microcomputer kit) and shared it with Gates, after which they decided to convert Basic into a product that could be used on Altair
The list just goes on with more examples of how lucky Gates was. The question to ask is — is luck the reason Bill Gates became a 10Xer?
Luck is Not Why Bill Gates Became a 10Xer
Bill Gates was not the only person who grew up in an upper middle class family, he was not the only person who had access to computing in the 50s, he was not the only one who read Popular Science magazine and he was not the only computer whiz at Harvard. There were tons of computer scientists at Harvard who had more experience than Gates at the time he was there, and any of them could have left school to start their own company. So what separates him from the rest?
Bill Gates seized the opportunity luck provided him. Here is how Collins explains it:
But how many of them changed their life plans ' and cut their sleep to near zero, essentially inhaling food so as not to let eating interfere with work ' to throw themselves into writing Basic for the Altair? How many defied their parents, dropped out of college and moved to Albuquerque to work with the Altair? How many had Basic for the Altair written, debugged and ready to ship before anyone else? Thousands of people could have done the same thing that Mr. Gates did, at the same time. But they didn't.
The difference between Mr. Gates and similarly advantaged people is not luck. Mr. Gates went further, taking a confluence of lucky circumstances and creating a huge return on his luck. And this is the important difference. Luck, good and bad, happens to everyone, whether we like it or not. But when we look at the 10Xers, we see people like Mr. Gates who recognize luck and seize it, leaders who grab luck events and make much more of them.
Gates recognized that he had an opportunity and capitalized on it. He let it disrupt his entire life, while others did not. This is the difference between good and great.