We get a lot of visitors at our ZURB Command Center. Today, however, we got a special visit from Miss Phillip's 5th grade class from Sacred Heart School in nearby Saratoga. They've been designers-in-practice thanks to Miss Phillips, a good friend of ours who's been teaching them how they can use design to solve problems. So we were happy to have them drop by for a visit.
We took them on a brief tour of our HQ, then through a quick history of design. They asked us about what it was like to work with clients, what our favorite projects were and even what we liked to watch on TV. It was great showing them how we work, but we learned something from them too. Their field trip reinforced something that we've always known — it's never too early to learn product design and design thinking.
Design Thinking Prepares Kids for Today's Challenges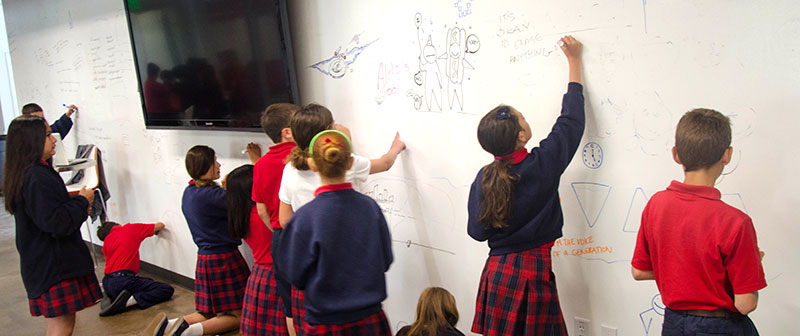 Miss Philipps has incorporated design into her teaching philosophy because it prepares her students to be successful in the 21st century. As she puts it:
Design thinking incorporates life-long learning strategies. Students collaborate, communicate, ideate, problem solve, become empathetic, and learn to persevere. These concepts are the foundation of education.
It's great to see an elementary school class embracing the concepts of design thinking. Many of us were taught in school that critical thinking was the only way to solve problems. That type of approach is great for closing them down — not so great for trying to opening them up. That's where design thinking comes in, allowing kids to use their imaginations to explore problems. They can go on tangents, exploring different solutions to a given problem. Don't get us wrong, that's not to say that design thinking is a replacement for critical thinking. They should complement each other. Kids who learn design thinking have a valuable skill set to solve any kind of problem, not just design.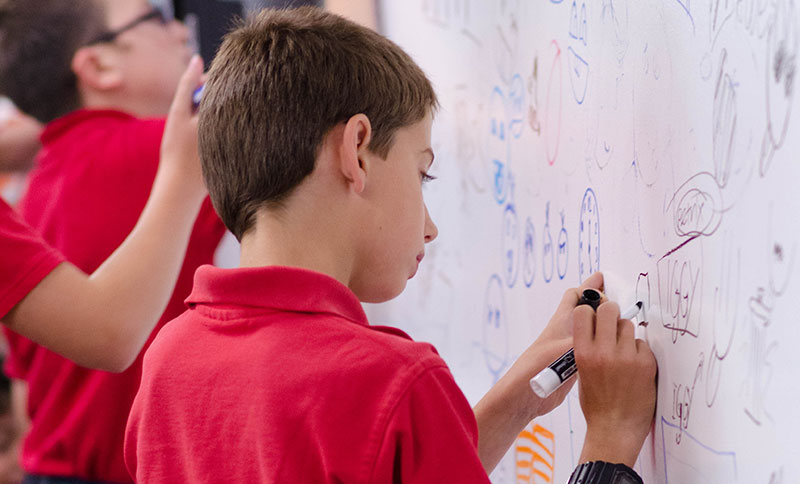 One aspect Miss Philipps loves about design is how it brings out hidden talents. She says it's a joy to see the realization on her students' faces as they discover they posses the qualities of an engineer, artist or problem-solver. As more and more of these qualities come to the forefront, students gain confidence and the motivation to tackle whatever comes their way.
Design Thinking Can Be Applied to Other Studies
Design isn't limited to just design in Miss Philipps' class. She applies it to other studies to make real-life connections. As she puts it:
We have used design in Social Studies to help early American explorers by creating a navigational device that would have helped them through their journeys. We have explored literature during Shakespearian times, and created an organizational device for Widge, a character in The Shakespeare Stealer who always loses things.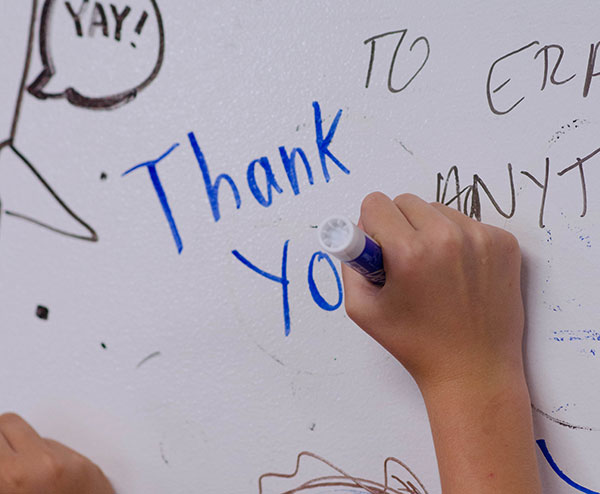 Design is Never Ending
Miss Phillips says design is never ending. It teaches students the importance of growing and learning about themselves and others. After all, design is everywhere. Everything we touch is design. But the greatest lesson that students get is that design is about people. That we're solving problems for people.
We'd like to thank Miss Phillips and her 5th grade class for stopping by!
It's also never too late to learn design. We've been teaching our own employees for more than 15 years and have put that into a series of product design courses that anyone can take.