Customer support is hard work. Fact. But stellar customer support is a pillar of great service. The two channels typically used when it comes to "customer service" — phone and email — aren't always ideal. Phone calls can frustrate customers as they listen to awful "on hold" muzak. Emailing back-and-forth to get details on an issue can be a time suck. That's where live chat comes in handy.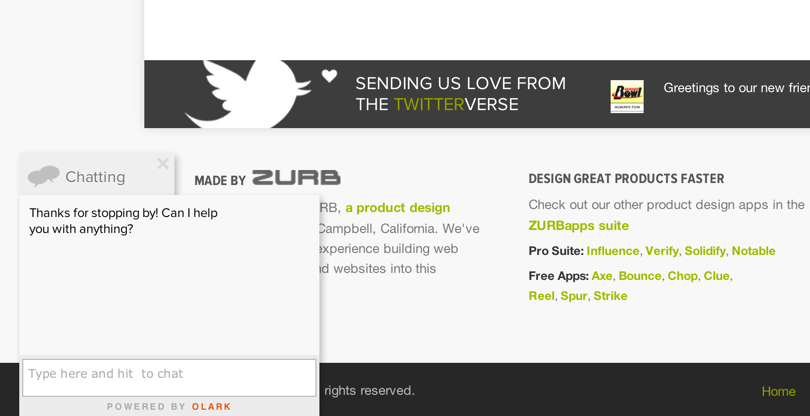 We use Olark at ZURB for our product suite's live chat support. Anyone, whether a current or prospective customer, can strike up a real-time conversation using the chat box at the bottom left of the page. We've found that live chat is beneficial to helping both us and our customers. Here are five insights we've discovered.
1. Create an Immediate Customer Touchpoints
We conducted a Verify test where we showed users a screenshot of the app's website and then asked where they would click to get in touch with a support rep. The results were outstanding. A whopping 90% of testers preferred engaging support through live chat than over the email or even Twitter. This really shows that customers appreciate the ability to talk directly with a representative, without having to navigate outside of the app.
After digging through our CRM and Olark reports, we also found some pretty exciting data. During Q1 of this year, 382 site users had a conversation with us through live chat support. Another 233 site users tried to get in touch through the chat window while we happened to be offline, as well. If you consider this data along with what we discovered from our CRM, this means that live chat interactions made up 43% of our customer support touch points for the entire quarter.
We chatted with Olark's Chief Marketer, Sunir Shah, who said one word kept coming up when talking to people about live support:
'Immediate' is the word that keeps coming up over and over again.
Immediate conversations help get the answers customers need quicker than email, where there can be a turnaround lag.
2. Chat Solves Problems Fast and Ensures Customer Return
You need to know what your customers are stumbling over — whether it's a common user problem you never knew existed or a surprise bug you need to tackle ASAP. Live chat is useful for that. Why's that? Live chat support gives customers the ability to ask a question and get a response in real-time. Being able to get immediate support without having to open an email or go find a cell phone you left in the other room is something we can all appreciate.
But speed is important. BoldChat conducted a survey of 4,709 people, reporting that 78% of those surveyed were satisfied with the response speed of live chat. Yet to satisfy the majority of respondents, it was necessary to respond quickly, according to the report. 88% said that the speed of a response over chat was crucial for the experience to be successful.
By making a support line super accessible and convenient, you're providing a solid "we are totally here for you" representation of your company. It gives customers answers to questions right then and there, increasing customer satisfaction and ensuring their return.
3. Chat Increases Conversions
We talked to another representative over at Olark (yes, via live chat!) who gave us some interesting feedback in regards to account creation. They reported that having someone to chat with about the product provided 300% ramp up in conversion rates and sales. That's quite a hefty number to be reckoned with.
Let's go back to BoldChat's report for a second. They found that 47% of those respondents who preferred live chat were likely to make a purchase.
Not only that, but live customer engagement also means you'll be saving money as well. When new users come across your site it gives you an opportunity to tell someone exactly why they should be using your product. How is this saving money? Just think how many visitors you can engage without having to spend extra money on advertisements or other marketing tactics! Take, for example, Shopify — a company that provides the means for their users to create eCommerce websites. Olark told us that when they started to provide live support they saw a 48% jump in order size, and customer retention actually tripled.
4. Captures Hotspots and What's Motivating Sales
Live chat representatives can handle multiple chats simultaneously rather than, say, focusing only one phone call at a time. Phone call numbers decrease but chat levels rise along with customer satisfaction.
Also a notable benefit is the fact that companies providing live chat programs also give you traceable chat transcripts that allow anyone to read and review. This gives valuable insight for resolving hotspots, the ability to see what's motivating sales and is also just a generally solid record to reference.
5. Keeps You and Your Customers Focused
We're big on talking with our customers, rather than at them. Having a live chat feature for our apps' users busts open the door for someone to ask a question, provide feedback or just get some more information about how the apps work. When you converse with users you're showing them that you are actually listening to them and really care about what they have to say (as we all should!).
Chat is also a much more immediate response compared to a phone call or leaving the screen you're on to go write an email. When you take a customer away from the specific thing they need to talk about, you're ultimately creating a delay in service which could just result in a loss of engagement with that user, entirely.
Added bonus: Unlike most other programs that generate a separate, pop-up window for a conversation, Olark actually keeps the conversation housed within the browser window. No more lost support chats getting hidden or lost behind a multitude of open windows and programs. Your customer can remain focused on the very thing they're trying to talk to you about.
One last thought about chat. Even when you're not there, we've found that folks will keep trying to talk to you. We went through a bit of a support shuffle and temporarily shut off chat. Before we turned it off, we had an average of 9.5 messages a day, which plummeted to 2.7. Duh, fewer messages, but really it should have been zero. Goes to show that our customers kept trying to get us through chat even when it wasn't available.
When it comes down to it, no one likes to wait on hold or in line, so why would anyone feel differently about getting assistance on a website? Let your customers skip the support line and have a conversation with them in the process. Talk to them without phone call anxiety or wall of text emails. They'll thank you for it.