Ah summer. BBQ's, sunny weather, watermelon, sparklers, the beach and vacations are just a few of the things that make this a magical season. But we're also incredibly excited about all of the big projects we're working on these summer months that are sure to take ZURB to the next level. To help us tackle these challenges and achieve our goals, we're happy to announce two new designers to the team. Without further ado, we'd like for you to help us welcome...
Kevin Chu: Designer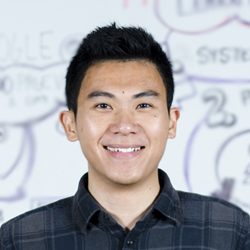 Kevin is a California native, growing up in both the San Francisco and Sacramento areas. From early on, Kevin's been an artist, doodling anything from Disney and Anime characters to family members and friends. As he got older Kevin expanded his skills with digital painting in high school and then studied graphic design in college, graduating with a BA in Visual Communications from UC Davis.
Kevin learned about ZURB from using our Foundation framework to design and build responsive sites and soon floored our entire office with an immaculately designed microsite that he designed, illustrated and built. We're excited to welcome Kevin to our Design team where he'll be crafting eye catching designs for a clients and internal projects!
Jon Nemeth: Design Lead
Jon grew up in the garlic capital of the world, Gilroy, California. Bouncing around just about ever city in Silicon Valley, Jon picked up web chops early, learning HTML at the ripe age of 11 years old. Coding up tables, frames and throwing in the occasional flame gif, Jon developed a passion for web design which perfectly fits his natural problem solving (and some time causing) nature.
In time Jon founded his own boutique web design agency in Monterey County. Working out of various Starbucks coffee shops and visiting the beach in between client calls, Jon refined not only his technical skills but also his interactions with clients. He later joined a larger web development agency, serving as their Technical Solutions Manager, interfacing with clients, international teams and assisting in nearly all aspects of the company.
Jon first stumbled on ZURB through our Foundation framework, and was inspired by our work, team and mission. We're excited to welcome Jon aboard as a Design Lead where he'll be putting his years of experience to good use, coaching our designers and leading projects big and small!
We're working on some of the most ambitious projects we've ever attempted this summer, and it's going to take teamwork to accomplish our goals. We're excited about the skills Kevin and Jon bring to the table and are confident we are going to achieve great things together!