We had a lot of fun chatting with our good friend Hiten Shah, CEO and co-founder of KISSmetrics, when he dropped by last month for ZURBsoapbox. One thing that's really stuck with us since our chat was something he said while commenting on his own early missteps and failures — that every venture has a blind spot and key risk that you have to figure out.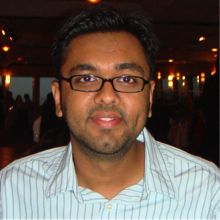 Years before Hiten and his partner Neil Patel hit gold with KISSmetrics and Crazy Egg, both men had a consultation firm, which eventually branched out into developing products. But they ended up wasting thousands upon thousands of dollars on some 20 products that never really took off. They even burned through $1 million on a web-hosting site that never saw the light of day. Can you imagine spending a million dollars on an idea that never becomes a reality? Would you even know where to stop yourself before it got to that point?
A Blind Spot
For Hiten and Neil, a lot of the problems with their earliest product efforts boiled down to having a blind spot, failing to understand the market whose problem they were trying to solve. Take their podcasting advertising network. They didn't grok advertisers and didn't realize, at the time, that those folks wouldn't be willing to make the leap from paying for radio spots to spending money on ads attached to a podcast.
Same thing when it came to the web-hosting site. They were blindsided.
Like the other ideas, there was something fundamental about the marketplace that we didn't understand. Like we didn't know what our opportunities should be and could be because we really didn't go figure out what the opportunity is in hosting.
Hiten said that they blindly approached the problem and didn't really focus on a single customer paying or a specific problem that they were solving. In other words, they were casting too wide a net. Counterpoint to this was Slicehost, which focused on a particular niche and was later acquired by Rackspace, finding an opportunity in a crowded marketplace, said Hiten.
Finding the Key Risk
So you might be asking yourself, as an entrepreneur, what can I do to avoid opening up my wallet and wasting thousands of dollars on an idea that hits the floor with a thud? For Hiten, it's all about finding the key risk. Whether your Google or a startup, there's always a key risk in any product you're developing.
The thing I've learned and the thing that helped us turnaround, if you want to call it that, or be more right, is by actually figuring out what the risky thing is and addressing that first with the least amount of effort.
When it came to the podcasting advertising network, Hiten and Neil didn't answer a very basic question: will advertisers pay for this? Had they addressed that question early on and nipped it in the bud quickly, they wouldn't have wasted so much time and money developing it.
The way to figure out the key risk is to break down anything you're working on and being honest with yourself about what the risky thing is, said Hiten.
Think of it this way, you can't fool yourself. You have to evaluate and test whether your concept is valid, if it will bring people to the door. If it doesn't, then your idea isn't viable and you may have to dump it before your pockets run dry.
Hear More Takeaways from Hiten's Soapbox