Apple released a major update to their iPhone operating system, iOS 6, on September 19th. It was highly anticipated and on release day, plenty of people rushed to iTunes to download the latest version of the iOS operating system.
However, it turns out that iOS 6, while highly-hyped, came through with lots of disappointment from fanboys and followers alike. There was criticism around the new maps — Uber actually went out of their way to instruct drivers NOT to upgrade to the newest version of the operating system, among other features.
The highest-scrutinized change in iOS 6 has a lot of iOS developers fuming angry. Apple changed the app discovery screen from a vertical scroll of 25 apps in compact form to a horizontal scroll, one-by-one. Needless to say, it's made discovering new apps on the new operating system significantly more tedious. Take a look at the new search results screen below: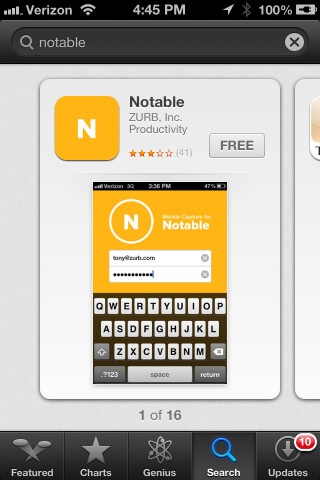 Apple appears to be strongly promoting incumbent apps, or those already in the top spot, according to TapStream. Others have pointed out that established app developers are getting priority in the new one-by-one app scroll in search, over indie or single app developers. Generally speaking, established apps are highly favored in the app priority in search now.
Obviously, this causes problems for any indie or new iOS developers looking to make a splash on the App Store with a new creation. Numerous posts coining the new App Store a "disaster" are rising up, calling out Apple's (unfair?) preference for established app developers.
A Difference of Business Objectives and Goals
It's an elementary thought — but this is a classic example of how different business objectives and goals are for developers and a larger business, such as Apple. All details aside, a developer is most interested in gaining traction for their app — whether it's achieved through revenue, new users, active users, media virality or otherwise.
Apple's focus is clearly on established apps and app developers, and at the dismay of iOS developers working on personal apps or apps for companies not established on the App Store, this is simply the way it is. With a new device (iPhone 5) AND a new operating system release, it's perfectly feasible to believe that Apple wants to get the best apps in the most hands for new adopters.
Education as the Focus
Likewise, an app developer should prioritize user education — at the expense of a lot of other initiatives. iOS developers can't rely upon Apple to always keep the App Store the same, but they can control their own marketing message, positioning and site/materials to drive awareness toward specifically-owned apps.
We prioritize education as a core component to ZURB's business. Without education, it would be difficult for a user to apply design concepts (and more tangibly, our apps) to their workflows. Whether it's this blog, our ZURBapps blog or various speaking engagements, we believe we can share a compelling story around product design and drive awareness of our products through providing high-quality information and insights to our audience.
The Landscape Changes, But Your Success Doesn't Need To
We'll see where Apple goes with the new changes to their otherwise-beloved App Store — it's just another example of a major company changing a design to better suit their users. Though we're sure that some developers will be negatively impacted by the changes, there are alternative routes to generating buzz and driving traction toward a new app creation, even if you aren't Zynga.
By putting an emphasis on education and building a compelling story, you can mitigate the effects of a negative design change on your business (and subsequently, your risk). Platforms may change, but the educational materials and marketing efforts are ultimately up to you, and will always remain in your control.