Last week, we dug into some interesting numbers which outlined how people use mobile devices while watching television. It turns out that there's a huge connection between the device and the TV set, which led us to believe there are a variety of awesome opportunities for new companies and startups to explore the space.
So what about a slightly more archaic medium ... traditional print publications? Surely, mobile devices have disrupted traditional print publications of all types, to the point of mass layoffs in newsrooms across the nation.
It may surprise you to learn, however, that print indeed still does exist — and people use their mobile devices while reading newspapers and magazines.
The study, conducted by ABI Research, highlighted smartphone and tablet use. Let's take a look at the numbers.
Smartphones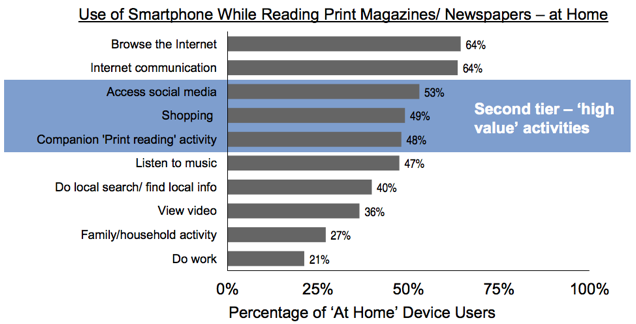 Source: ABI Research
It turns out that for those who use their smartphone while consuming print, browsing the internet and "internet communication" (we assume this means chat) lead the use cases at 64% a piece (552 respondents).
Interestingly enough, finding companion "print reading" activity came in at fifth, but the study still considers it a high-value activity. Apps that focus on companion material may be suited to find unique ways to diversify their smartphone offering so they meet one of the other use cases — if they are purely focused on the smartphone as a primary device for their product or service.
Tablets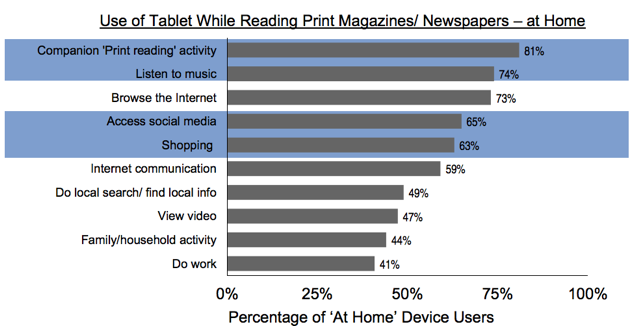 Source: ABI Research
Tablets feature larger screens than smartphones, so we were hardly surprised to see companion content lead the list here at 81% (563 completes). More screen real estate allows for a digestible amount of rich content to be displayed to the end user.
Listening to music is a typical activity for some print readers, and people generally use their tablets to do just this. Internet Communication (chat) generally remained around the same percentage as smartphone users.
Conclusion
As much as mobile technology has advanced over the past few years, print continues to play a key role in most people's lives. These charts show that mobile devices go hand-in-hand with print publications — and are used together more often than you might think.