Facebook released a long-awaited update to their iOS app this morning. Given the social network's active usage around the World, it was well-received. The previous iteration of the iOS app simply did not cut it — it was painfully slow, and for many users, it ruined the experience.
But never fear — today's major update fixes that major headache (and a few other components). The newsfeed scroll has been smoothened out and photos instantly load. Facebook claims the iOS app is 'twice as fast' when opening the app, scrolling and opening photos.
How important is speed when you're designing your product? Simply put, speed is a crucial component and cannot be overlooked. Page load speed is one important statistic to track for mobile, as a slow page load speed could mean a significant drop in revenue. Consider this: A one-second delay in page load for a $100,000 e-commerce site means $2.5M in lost revenue a year.
Though Facebook isn't an e-commerce site, let's consider this from an engagement standpoint. It only takes a one-second delay for an e-commerce site to lose a significant amount of potential revenue, so imagine how many user interactions Facebook lost with their slow iOS app.
TechCrunch's Josh Constine reports that in the old Facebook app, it took up to ten seconds for the news feed to load. While there is a lot of data in the news feed itself, 10 seconds is simply far too long to wait for an app user to wait — especially given the plethora of other things a user can do on an iOS device. Admittedly, many of us have shut down the Facebook app out of frustration for slow loading time.
In Facebook's case, hastening up loading time and lessening the wait should have an overwhelmingly positive impact on interactions. "Likes," especially, should see a massive spike upwards as it requires the least amount of effort from a user (one tap from the news feed).
Our latest app release, Plunk, incorporates a speed metric into our test results pages. Check out the screenshot below, noticing the average speed rate in the right-hand bar: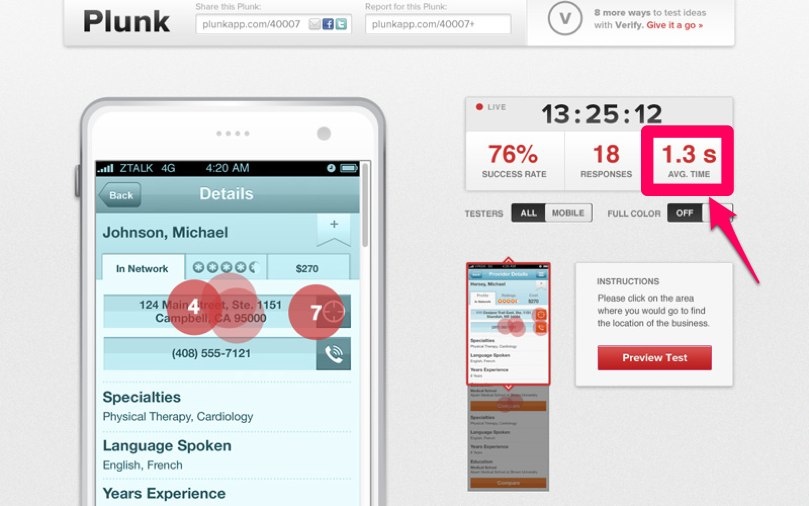 As you can see, we note the average time it takes a user to find and plunk down on the target. We think this is valuable information for several reasons. Most notably, it speaks to how clear your design is to drive your user to action. A cluttered or ineffective mobile screen could result in a longer "average time" metric — and as you can tell from the statistic above, you could consequently be losing a lot of potential revenue as users get frustrated and eventually move on.
Will you use the Facebook app more now that the app itself has sped up? Let us know your thoughts in the comments.