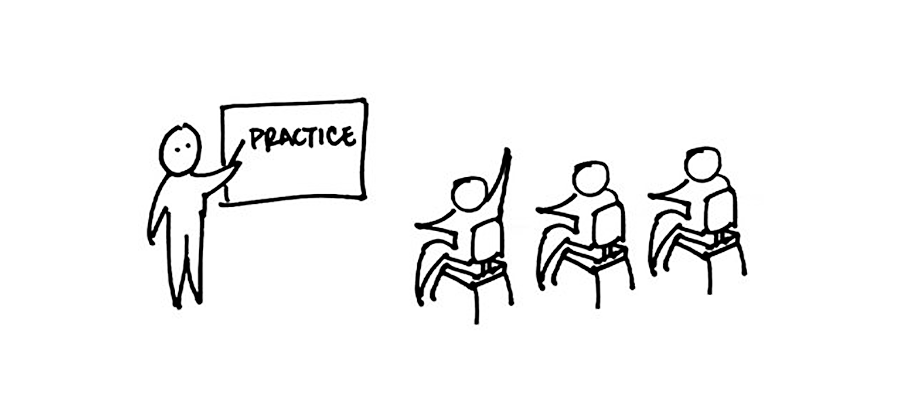 Author Malcom Gladwell suggests that it takes
10,000 hours
of sustained practice before you can truly master a discipline. While that's certainly an ambitious approach to learning your trade,
Seth Godin
has a bit more realistic take on it: It's not 10,000 hours that matters, it's the fact that there are fewer people who have committed themselves to a craft or skill beyond 5,000 hours. Once you have committed yourself beyond that, there are very few people who will have the same skill level as you. Many designers put too much emphasis on their natural abilities and, though fellow team members may be amazed at their skill, a lack of business experience can ultimately affect their working relationship. Most people don't understand that artistic talent is rarely "natural." Designers who think they project "natural" talent will find themselves working in a bubble. Falling into a category of designers that stagnate. As trends in the industry change, those who isolate themselves will begin to lose touch with the direction the industry is going. However, keeping up with the technological and procedural changes in the design field is just part of the process. Most designers are self-taught but still need a growth area that's
outside
of design to keep things in perspective and feel refreshed when they return to honing their skill set. A web designer could study to improve the way they present their ideas to clients, or even learn the code that frames the backbone of their design. Doing so can expand upon the designer's perspective and maybe even result in new, previously unimaginable, directions for their work. As designers, we must constantly expand our knowledge to stay sharp and up with our peers and to think up new and exciting directions to take our work. Just like Geoff Colvin said: "
Talent Is Overrated
". Design prodigies are not born, they are achieved through thousands of hours of practice.
---
Bryan Zmijewski
Leading the charge at ZURB since 1998
Our fearless leader has been driving progressive design at ZURB since 1998. That makes him quite the instigator around the offices, consistently challenging both the team and our customers to strive to always do better and better.
Learn more →
Follow him at @bryanzmijewski