When it comes to collaboration, you need two or more to tango. You can't collaborate all by your lonesome. Well, you could, but then you'd be Edward Norton in "Fight Club" conspiring with Tyler Durden. But to get the most out of a collaboration you have to do design work upfront. And that can be a lonely effort, even in an open-office environment that encourages collaboration.
Let's define design collaboration first. It's Design Thinking in action. When you have a creative team with fantastic ideas, sometimes things can get a bit fuzzy. After doing work, you need a second opinion because you're too close to your ideas. Collaboration allows you to get feedback on those ideas. You might find new sparks in that collaboration, or you might find that your ideas aren't quite cooked. It's easier to collaborate when you don't have a physical barrier between you and another designer.
Check out any startup and you'll find an open floor plan. A German team conceived of an office not shackled with walls and room in the 1950s. (An aside: Frank Lloyd Wright considered an enclosed office to be fascist.) Offices without walls have been around for quite some time as newsrooms everywhere before they were all the rage in Silicon Valley. Steelcase, the office furniture company that once bought design firm IDEO, is a big proponent of an open office. Why the appeal? Because an open-floor plan removes the barriers, literally, and encourages collaboration. Which is why our office at ZURB HQ is open.
The Cost of an Open Office?
The startup world assumes that open floors are great for ideas, and they are. Sparks fly quickly around ZURB. But there's also a cost associated with having an open office space. There is a barrage of distractions that could increase your blood-pressure and stress. Not everyone is a fan of them. 37 Signals imposes "library rules" to keep things pretty quiet in their open office.
Jason Fried, 37 Signals co-founder, is big into remote working, saying the office is the worst place to get work done. However, presence is crucial in collaboration. You can't balance collecting feedback and presenting those ideas if you're not in the office. Working remotely, you're siloed. Collaboration can't happen in a vacuum.
Doing Your Homework
Design is collaborative by nature. And working jointly is a handshake with your team, customers and potential customers that you're out for the best answer, not just an answer. And it gets you through the Design Feedback Loop, where you do work, present it, get feedback and iterate on it.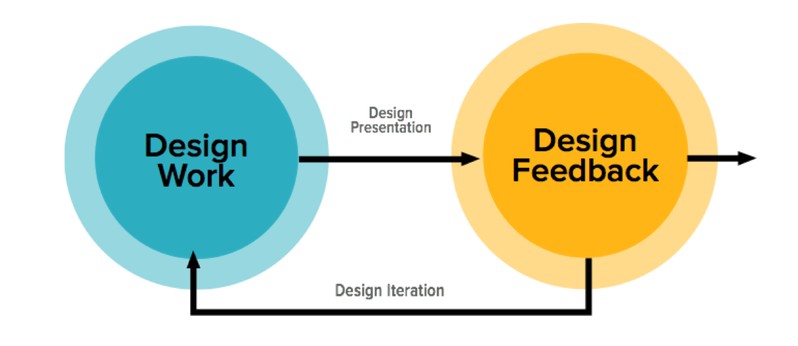 But the vast majority of the time is spent doing work, and that's what designers think is more valuable. Why does it take a long time? Design work takes long periods of time executing by yourself. Because if you're going to seek feedback, you have to be iterative and think through problems on your own first — from hypothesis to sketching to wireframing to layout. And it's hard to collaborate when you're doing work because the tools are often solitary. You have to commit to your ideas with homework before you collaborate. That's where most companies go wrong, wanting to get consensus before committing to any work. It's a one to 10 ratio when it comes to collaboration to doing work alone. The valuable part often is the collaboration, where you can get feedback.
Let's look at how many hours one of our designer logged on a recent client project. He worked 148 hours out of the 180 total project hours. That roughly breaks down to 21 hour per week. Out of those 21 hours, two hours were on calls with the client. An even smaller amount of time, another hour or so, was spent getting feedback from the project's lead. Doing rough math, the designer worked 17 hours on his own before collaborating. When there was collaboration, either with the lead and copywriter (me) on the project, the designer was able to get feedback so he could iterate. What was really valuable, however, was spending that time with his other teammates after a client call. The lead was able to help decipher their clients feedback, which gave the designer the confidence to push forward. The smaller amount of time ended up creating greater impact on his work.
But you can't just get feedback without putting in the work. And that sort of collaboration can't happen if you're miles away from the office.