Over the last few months, we've talked a lot about the power designers have to influence change in organizations. But we're looking beyond impacting mere business outcomes. It's our sincere belief that design can cause real, positive change in the world. ZURB Wired is proof.
Each year we volunteer our time and resources to help one special nonprofit craft a complete marketing campaign in 24 coffee-fueled hours. ZURB HQ becomes a hive of activity as our entire team, along with volunteers, work all through the night to create a website, print material, engineering support, written content and even videos. To accomplish this, we use the same process and methods we use in our Studios business to help companies do incredible things in short amounts of time. The event itself is timeboxed to 24 hours, but the results of our work are felt long after.
Now in its eighth year, ZURB Wired is testament to the power of both design and community, accomplishing months worth of work in mere hours. We're extremely proud of what we've achieved so far, and we're setting the bar even higher this year!
A Look Back: Sacred Heart Community Services
Last year, Sacred Heart Community Services was our chosen nonprofit organization. Sacred Heart's mission is to build a community free from poverty by creating hope, opportunity, and action ' goals that resonated with our team. Sacred Heart provides food, clothing, and housing assistance to those in need, as well as offering services like employment assistance, family mentoring, along with adult and youth education programs.
Our team created a marketing campaign to help them procure the resources they needed, raise the necessary funds, increase the number of new donors and re-engage with past donors. The campaign included a redesigned website, print collateral, digital assets, a video and marketing content.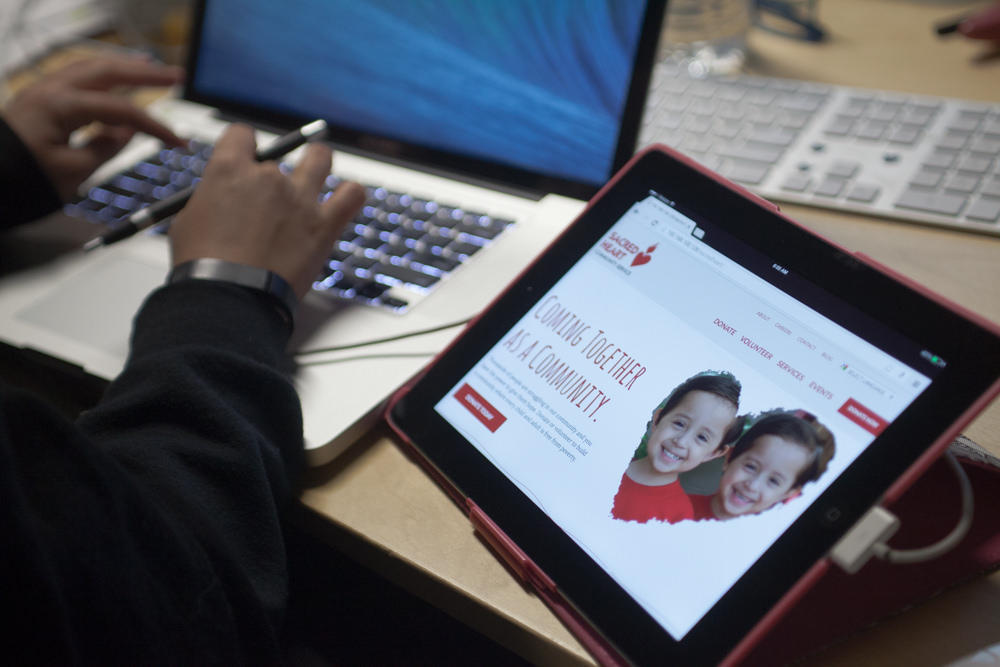 The fruits of our labor continued after the 24-hour Wired rush. Jay Pecot, Director of Development and Communications shared this with us:
Even with an improved economy, more people than ever before are seeking Sacred Heart's help. That is why Wired was such a tremendous experience for us. This year, because of ZURB's help, we are ready for our holiday fundraising campaign celebrating our 50th birthday with a comprehensive set of paper and electronic communications. During Wired, we watched carefully how ZURB's staff took us through the design process. We are going to do the same for our next big campaign. And most importantly, we will set aside time to build the campaign together, rather than fitting it in between other tasks. Thank you, ZURB.
Become This Year's Nonprofit
Do you have an inspiring cause and a passionate team? If so, you may be the nonprofit we're looking for! We are now accepting applications for this year's Wired. The deadline is July 17, 2015. We have two requirements:
Your nonprofit must be a registered and IRS compliant 501(c)(3)
Your nonprofit must focus on providing services to the Bay Area community
In addition these requirements, we'll need you to submit a proposal. Here's what your proposal needs to include:
Inspire us with your organization's mission.
Name three teamwork tactics that will make your organization a perfect fit for ZURB Wired.
Describe a clear goal that your entire organization wants to accomplish.
Say which team members will commit to participating all day and night.
Name one or two people from the team who are capable of making executive decisions on the organization's behalf ' there's no time to consult with the board at two in the morning!
We'll review submissions over the next couple of weeks to pick one nonprofit. We can't wait to put our experience and resources to work for positive cause. Apply today!