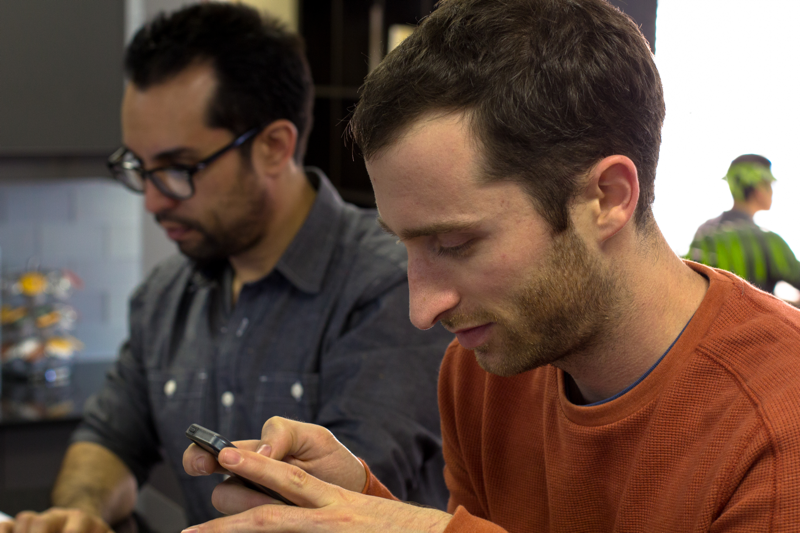 Mobile usage is growing. Fact. The stats don't lie. The global smartphone market alone grew from 55 million in 2010 to 219 million last year. And mobile traffic is quickly surpassing desktop traffic in Asia, Africa and even South America. We're using our mobile devices more and more — and not just for Angry Birds — so aren't we giving and receiving feedback on those devices?
Mobile Interactions are Becoming More Complex
Our work habits are changing with the ubiquity of mobile devices. At ZURB, we usually carry one or more devices with us from room to room, whether it's our iPhones or iPads. We use them around our office to project work on large screens during scrums. We're not the only ones — 66% of workers use more than one device to get their job done. The lines between work and personal use are blurring when it comes to mobile devices.
Take our Chief Instigator, Bryan. He wrote the introduction to his monthly newsletter on his iPhone while traveling to the beach. He's not the only one. Some of our most recent ZURBwords were partially written on an iPad.
Yet we're not fully presenting work in a mobile context. Some of our friends recently answered how they showed their work to customers and project managers. One said they carried a Thunderbolt display sometimes to in-person client meetings. Another said they used an iPad let let their customers scroll through Keynote. But we can't always be there in-person to walk them through.
When presenting work remotely we don't always have the luxury of knowing how people are viewing our work. Yet, with this change in our work habits and the growing complexity of our mobile interactions, we aren't we getting feedback in the same context. But we have to.
Building Mobile Products Require Contextual Feedback
This is something we've been thinking about for a while. We've realized the importance of touching and feeling a mobile design within its context. That's because it's hard to give feedback on a mobile application or responsive site without interacting in the environment its meant to be viewed on.
But there's no easy way to give contextual feedback using your mobile devices. You could snap a screenshot on your phone then email it. Or, if you're a Notable user, you can use the native app, snap a screenshot and upload it to annotate later. You can't, however, annotate directly from your mobile device.
However, we've been working on better ways. Take Solidify, our clickable prototype tool. We we can upload wireframes for a mobile design, which can be viewed on a mobile device and you can see whether or not users are clicking where they're supposed to. We did this to test the mobile prototype for our Forrst redesign. Go ahead, check it out on your smartphone.
All our Verify tests can be taken across devices. Users can even select which device they'd specifically like testers to use, like a phone or tablet. We're also working to ensure our presentation tool, Influence, can also be used on any device. That way clients or project leads can give structured feedback on their mobile devices. While these are great tools for feedback, they're less-than-ideal for getting contextual feedback on mobile products.
No Magic Bullet Solution ... Yet
In order to get context, our apps ask up front: Is this for desktop? For phone? For tablet? That works, but it isn't ideal because we really don't have control over what device someone may be using. And that's the problem we have to solve. We have to figure out how to test on the availability of devices.
We can't slam a responsive design into Verify and test for that. We're not sure how to do it just yet. Or annotate a responsive design within Notable, for that matter. And what would those reports even look like? Would a responsive Click Test in Verify how results for touch targets?
But it isn't just us. We're all facing these challenges. Figuring out how to be able to leave contextual feedback on mobile devices is still emerging. But a few others are working on this problem too, and doing it well. Our friend LukeW's native app, Polar, allows folks to quickly choose between two options — this or that. There's also Appstark, which puts a feedback mechanism within an app so users can leave direct feedback for the designers.
There's no magic bullet solution right now, but as smartphones and tablets leave desktop in the dust, it'll become more and more crucial for us to actually use our smartphones or tablets as a feedback tool.