At ZURB, our workday gets packed quickly with client projects and our own projects. A tiny distraction can upset our workflow and destroy our productivity. So when we read this Inc. Magazine article on the seven things highly productive people do, it got us thinking about what distracts us throughout the day.
Think about your workday. What distracts you? Email? Multitasking? Or feeling overwhelmed by a large project? Staying on task and meeting goals takes deliberate practice. Below are three pieces of advice that keeps us from getting too distracted, which we wanted to share with you.
Manage Your Email, Don't Let It Manage You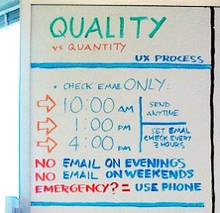 How
Flickr Co-Founder Caterina Fake
manages her email.
When it comes to email, it's easy to allow a swelling inbox consume your entire workday. That's why Inc. Magazine suggests picking two or three times out of the day to check your inbox. Believe it or not, the article's suggestion is something we've heard before from a few influencers.
Take Ben Blumenfeld, communication design manager at Facebook, for instance. He doesn't think of email as a "must do" task, saying he thinks of responding to an email as optional. We know that's hard. Email is an addictive distraction. We have to respond quickly or it might seem that we're ignoring the person on the other end. However, when email dictates your day, you lose hours you could be using to accomplish a task or goal.
Working Backwards
Scribbling down a lofty goal on the top of your task list that says build an awesome app that translates any language into Klingon is a "sure way to make sure it never gets done," says Inc. By working backwards, says the article, you can slice the work up into smaller, more manageable bits. That's something we already do as part of our design process. We call it timeboxing, which forces us to limit what we're doing by how much time we actually have.
Another way we put a fire under our butts is by planning a 5-day outlook. Breaking down a huge project into smaller time chunks keeps us from getting overwhelmed and off task.
Multitasking Can't Always Be Avoided
The biggest distraction of them all is multitasking, which researchers say saps the brain. In the rush to complete a project, it's nearly impossible to not juggle several different tasks. So Inc. Magazine's suggestion to completely stop multitasking doesn't really work. This Harvard Business Review article suggests that multitasking can't be avoided and may actually be beneficial to entrepreneurs.
The trick, however, is to optimize your multitasking and know the cost of switching gears on your productivity. When there's too much structure in your day, it's hard to have the flexibility to switch gears on multiple tasks. Say, for instance, your day is scheduled around meetings, then multitasking would just get in the way. In other words, what's true for one person isn't always true for everyone. Multitasking has to be taken on a case-by-case basis.
Stay Focused On Your Terms
While these are the ways we stay productive, which we hope you find useful, we know that they don't always work for everyone. Your workflow may be different from ours. Somedays you may have to multitask, other days it's not possible. In end, however, stay focused and it's in your hands to figure out how best to do that.